Big Brother 16
Dallas Cowboys NFL Experience (Episode 23)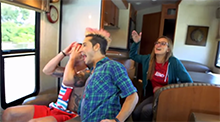 Caleb, Christine and Frankie were rewarded with a trip outside of the Big Brother house as a result of Caleb and Frankie winning the "Moving The Chains" Battle of the Block competition. As the remaining HoH for the week, Christine was also rewarded.
Given that the Battle of the Block competition was Thursday Night Football themed in order to promote the games on CBS, Caleb, Christine and Frankie got to attend the Dallas Cowboys training camp. They got to tour the Cowboy's locker room, meet Jerry Jones, Jason Witten, Tony Romo and Dez Bryant.
Scorpion Premiere Screening (Episode 28)
As a result of winning the "Sting Operation" veto competition, Cody was rewarded with the opportunity to watch a private screening of the new CBS show "Scorpion" in the HoH room. He was also allowed to bring two of his fellow houseguests along with him. Cody chose to bring Donny and Nicole along with him.
Luxury Competition - "Jury Fury" (Episode 36)
The houseguests were informed that a luxury competition would be taking place. They were then instructed to head up to the HoH room, where they were told to take a look at the TV screen. At that point, the jury members then came through the front door and made a mess of the house.
The jury members then headed out to the backyard for the luxury competition. Zach explained that hidden in the Big Brother house are "knock out pucks". The jurors must run in to the house and search of finding the pucks. Once they find one, they must run outside to the knock out board and place it in the slot of the person that they wish to eliminate from the competition. The last person standing will win $5,000.
Upstairs, each houseguest will be betting on a different jury member to win. If the player they choose wins the game, they will also win $5,000.
Frankie chose to be Team Zach.
Derrick chose to be Team Donny.
Victoria chose to be Team Hayden.
Cody chose to be Team Nicole.
Caleb chose to be Team Jocasta.
Nobody chose to be Team Christine, so none of them will win any money if she wins.
Jocasta found the first knock out puck and chose to eliminate Christine.
Nicole found the second knock out puck and chose to eliminate Zach.
Nicole found the third knock out puck and chose to eliminate Donny.
Nicole found the fourth knock out puck and chose to eliminate Jocasta.
Hayden found the fifth knock out puck and chose to eliminate Nicole.
Hayden and Victoria each won $5,000.