Big Brother Australia 2014 - Day 17 Recap - 5 housemates are nominated for eviction
September 24, 2014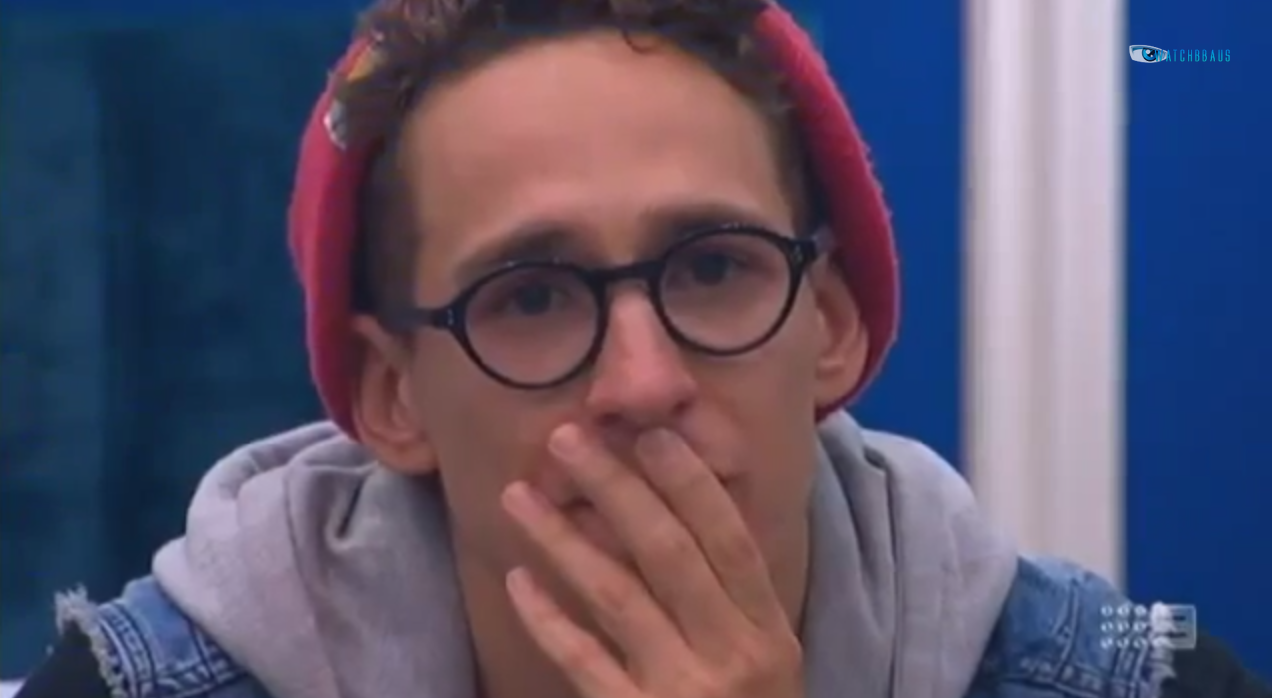 The episode picked up after the eviction. Jake told the others that Gemma was such a game player, trying to work people the whole time. Jake then went to the diary room and said that it is really admirable to have people choose to keep you in the game and want to get to know you more. Priya was the next in the diary room, saying that she felt terrible for Gemma but she got caught in a web of her own making. Priya told Big Brother that she chose to save Gemma so that she did not feel completely alone, as she is a girl that has never been chosen for anything. Priya said that she would do it 100 times over if it is something that can increase someone's self esteem a little bit. It was them time for Gemma's parting message to play. Gemma started with Jake, telling him that she is so lucky to have met him and that he is one of the most kind and thoughtful people she has ever met. Gemma then called David "a bit of a weirdo" but added that sometimes she likes that about him, though she doesn't trust him. As for Travis, Gemma said that he drives her up the wall. She advised him to think before he says some things and listen to what people are saying to him. Gemma told Cat that she is a sweet girl but that is one dimensional and she needs to bring more to the house. Gemma then revealed that she has been poking them on purpose, as she wanted something to happen.
Katie and Lisa were hiding food and drinks from the others, playing a prank of them. Lawson and Travis then went through their stuff and found two cans of soft drinks in Katie's bags. Once she realized, she asked Travis if he had gone through her stuff. Travis said that she should not be stashing them. Katie said that's fine but people should bring it up with her rather than going through her stuff. Katie and Lisa were unsure who did it, but Katie pointed out that she just doesn't trust people around her bag of money. Afterwards, Lawson told Cat that Katie thinks that she is one of the strongest and feels as though she is the queen bee. Lawson added that he has so many reasons not to trust Katie, saying that she is full of shit. He pointed out that she was the one that hid the drinks, yet she blamed them for finding them. Lisa then brought up in front of a number of housemates that people should come to them if they have a problem with the stealing of the drinks. She apologized, said it won't happen again but people should not be talking about it behind her back. Cat had pointed out that if people think it's fun to steal them, it's fun to steal them back. She began crying and said that it was not meant to be malicious.
Big Brother then told the housemates that they are no longer in pairs and that it is now time to nominate. They were told that they will each have 5 points to distribute across two nominations, and the 5 nominees with the most points will be up for eviction. The nominations went as follows:
David
Dion - 3 points - David explained that the only things that he ever hears from Dion's mouth are things about CrossFit. He also said that Dion is the biggest eater in the house.
Priya - 2 points - David felt that Priya did not handle herself well with the money situation in Week 1, trying to stay chummy rather than fess up to her mistakes.
Sandra
Travis - 3 points - Sandra said that he has a very overwhelming personality and speaks the loudest, monopolizing the conversation.
Skye - 2 points - Sandra again used the reasoning of an overwhelming personality, trying to take away from David's moment when he shaved his beard by saying that she had just shaved her legs.
Sam
Travis - 4 points - Sam called Travis extremely obnoxious and loud, adding that some of his comments are quite stupid.
Dion - 1 point - As David had said, Sam told Big Brother that all that Dion talks about is CrossFit. He added that it is labouring having a discussion with him.
Ryan
Cat - 3 points - Ryan explained that he would prefer that people resolve their problems right then and there, unlike Cat did with the stolen soft drinks.
Jake - 2 points - Ryan felt that some of Jake's stories were a bit much and that he was melodramatic.
Travis
Dion - 4 points - Travis said that the nomination was due to Dion having broken up his partnership with Ryan, as he felt betrayed.
Sam - 1 point - Travis mentioned that Sam is cutting him off.
Cat
Katie - 3 points - Cat nominated her due to the handling of the food stealing incident, as Katie tried to place the blame on others.
David - 2 points - Cat felt that her talks with David were done in a strategic manner that made her feel as though she was not playing the game properly.
Jake
Priya - 3 points - Jake explained that Priya was deceitful when she did not tell them that the money that they received was from the prize money.
Katie - 2 points - Jake nominated Katie due to greed, putting herself first when they are given refreshments.
Skye
Priya - 3 points - Skye felt that Priya had thrown her under the bus during the practical joke of stealing the drinks back, telling Lisa what happened.
Dion - 2 points - Skye nominated Dion for being negative about food and being snappy and cranky when he does not get to eat.
Lisa
Cat - 3 points - Lisa said that Cat is super emotional and it makes her look bad since people fuss over the person that is crying.
Travis - 2 points - Lisa believed that they have seen a different side of him since Aisha got there, also moving on to Lawson.
Katie
Lawson - 3 points - Katie told Big Brother that it is a strategic move, as she has seen a lot of calculated moves from Lawson and it shows he knows what he is doing.
Cat - 2 points - Katie said that Cat's non-confrontational character clashes with her, and Cat going around and being sneaky is bothering her.
Priya
Cat - 3 points - Priya found Cat's reactions to everything to be very weak and insecure.
David - 2 points - Priya explained that David said that he does not want Jason and Dion to win, then he got mad when she told them.
Dion
Cat - 3 points - Dion told Big Brother that Cat is too boring.
Katie - 2 points - Dion said that Katie is one of the most hostile people in the house and escalates things beyond what they need to be.
Jason
Sam - 3 points - Jason found that Sam is too aggressive in his demeanour when it comes to arguments and debates.
Lisa - 2 points - Jason went back to Lisa's confrontation with Cat, saying that Lisa is very confrontational.
Aisha
Katie - 3 points - Aisha said that she is not in to the queen bee attitude.
Sam - 2 points - Aisha found it hard to get along with Sam due to his sense of humour.
Lawson
As HoH, he received a nomination super power that gave him 12 nomination points. Big Brother offered Lawson the opportunity to see where any housemate sat on the nomination board at a cost of 1 point per person. Lawson asked to see his name. He saw that he was sitting outside of the nominations spots. Lawson then asked to see Sam, who sat one spot outside of the chopping block. Lawson was happy to see that he did not have to save Sam. Lawson then found out that Travis and Katie are nominated as of now. Finally, Lawson asked to see Cat and found out that she has received the most nomination points thus far. Lawson had 7 points remaining.
Skye - 2 points - Lawson said that Skye is quite immature in the way that she handles problems.
Katie - 5 points - Lawson did not want to leave Cat at the top of the nomination board.
FINAL NOMINATION RESULTS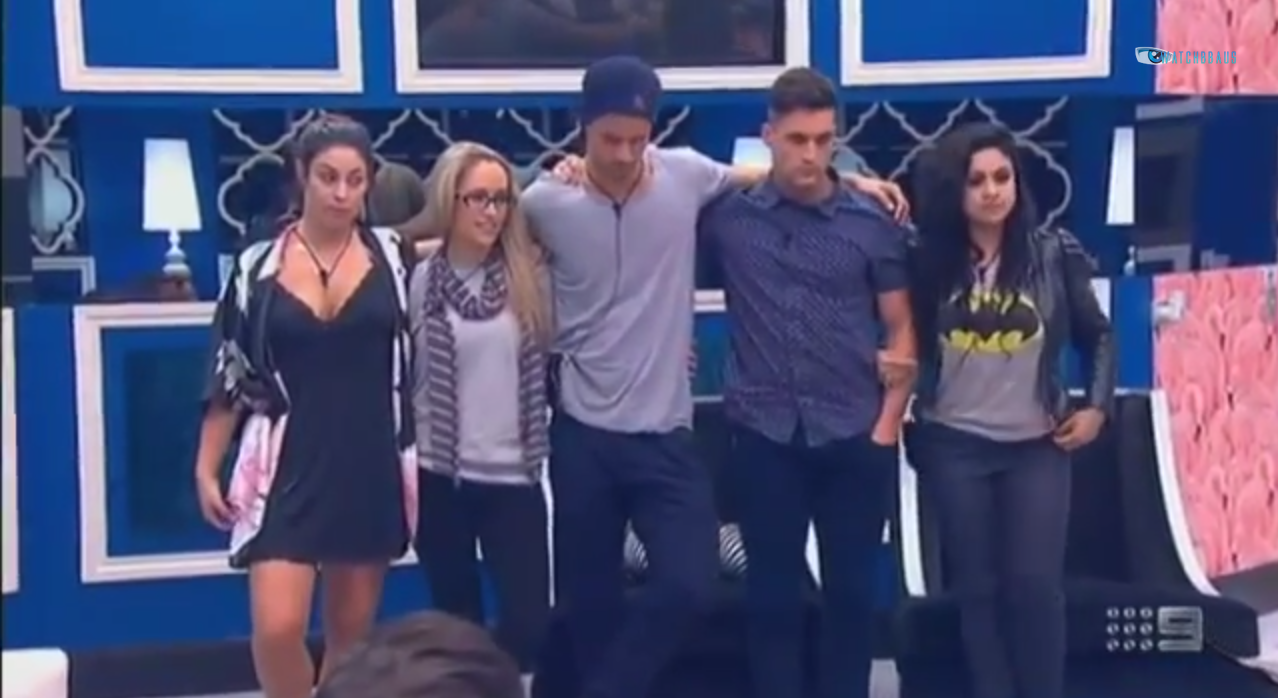 Katie - 15 points - NOMINATED
Cat - 14 points - NOMINATED
Dion - 10 points - NOMINATED
Travis - 9 points - NOMINATED
Priya - 8 points - NOMINATED
Sam - 6 points
David - 4 points
Skye - 4 points
Lawson - 3 points
Jake - 2 points
Lisa - 2 points
Aisha - 0 points
Jason - 0 points
Ryan - 0 points
Sandra - 0 points
Read our other recaps here.