Big Brother Australia 2014 - Day 23 Recap - Katie is evicted
September 30, 2014
Sonia revealed the voting percentages for tonight's eviction. The percentages were 39%, 34% and 27%. The reaction to last night's events were then shown. Cat told Skye that she feels as though she is going to need to lay low tomorrow in order to avoid being nominated. Skye said that David told her that she is going to be nominated this week. Katie told Big Brother that the snap eviction was a real surprise for her, as she did not expect it at all. Katie was shocked that Cat received the most votes to save. Katie said that she is not ready to go home yet and feels as though Priya and Travis are very strong people and players. Jason said that he is sad that the person that he came into the house with is now gone, but strategically it has got a lot of the others thinking and may get them to start questioning their actions in the house.
Dion's parting message was played for the housemates. He told Katie that he hasn't been as close to her as he has been with others, but she wears her heart on her sleeve and shows what she believes in. He advised her to keep being strong willed. Dion told Sandra that she is the most beautiful woman and has the most amazing personality, so keep doing what she is doing. Dion said that David's strategy has worked, so don't ever stop being a weirdo. Dion let Travis know that he made his time in the house so much fun. Finally, Dion told Jason that he is so stoked that he picked him as his partner, as he kept him going through all of the tough times. Dion thanked Jason for being his rock in the house. Priya was in the diary room and told Big Brother that it will make everything really interesting if Katie goes, as they will see who Lisa's new sidekick is. Priya said that Lisa would be mistaken if she chooses her, as she is much different than Katie. Travis said that hopefully Katie's haters are voting to save him, while her lovers cannot be bothered to be picking up the phone. Travis felt that the two worthy opponents were nothing that he could not handle.
Big Brother revealed the latest task. It was the yes-no task. They were permitted to say "no" only one time. A second no would result in the loss of next week's food budget. Sandra was then called to the diary room. There was a sandwich with the AFL grand final score engraved in the cheese of the sandwich. As part of the task, Big Brother asked if she would like to eat the sandwich without checking out the final result. Sandra said yes and then proceeded to eat the sandwich. Jason was then called to the parlour room. He was asked what was going on. He said that the most revolting pair of silver hot pants were awaiting him. Big Brother said that they understand that he enjoys being an entertainer and asked if he would like to become a human statue. Jason said yes. He was painted and was then told that he would have to head to the backyard and would be forbidden to talk once he heads to the backyard. Jason successfully completed the task.
There was then talk about Skye having eaten a jelly dish before dinner. Travis said that if he was back and home and his mates had put it out he would have eaten it too. He also pointed out that there are some people that have never lived away from home, implying that they should take it easy on them. Lisa said that Skye is 20 years old though, not someone that is 15. Skye then went and showed the others all of the food, saying that they are not starving African children. She was going back and forth with Lawson, who pointed out that Skye ate 1/4 of the dish on her own. Later, Lisa told Skye that people are looking for reasons to come after her, so stop giving it to them. She suggested that Skye goes to the kitchen and helps out by making a dish or cutting up some veggies or fruit. Big Brother then put Priya's husband on the screen and offered her a task. Big Brother said that he would love nothing more than to give her a big hug, and then asked if Priya would like for them to escort her husband from the premises immediately. Some of her fellow housemates told her that she has their blessing to go see her husband. Priya shouted out that she loves him and then told Big Brother that they cannot escort him out.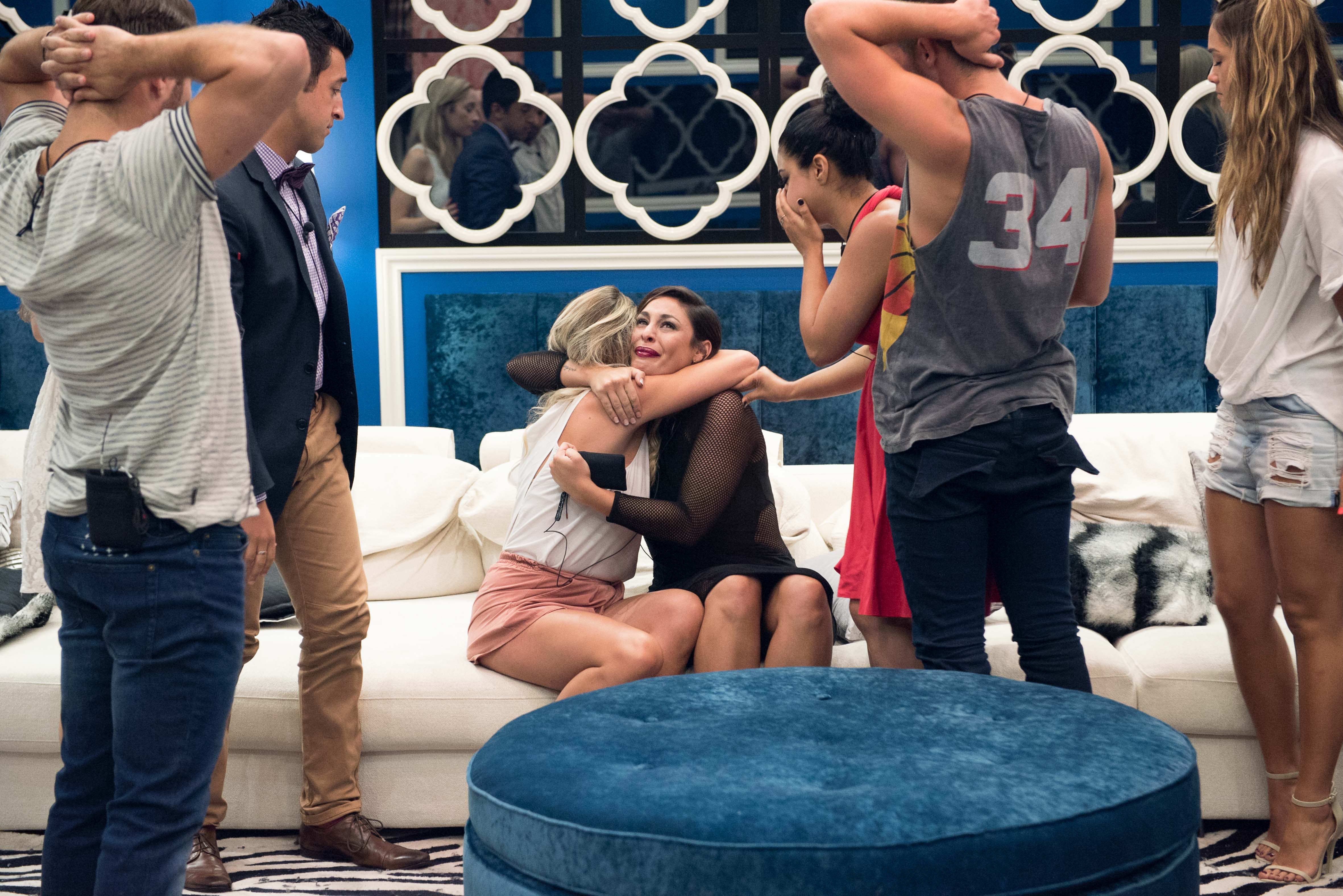 Katie, Lisa, Priya, Ryan and Sam discussed Cat being saved and that she is openly talking about her feelings for a guy (Lawson) that has a girlfriend. Ryan said that that's huge. Katie pointed out that Lawson is feeding into it. She added that she would never go for someone that had a girlfriend. Katie told Sam that it's clear that Sandra had a little crush on him, but she doesn't think that Sandra would have crossed the line with him. The phone then rang. Lawson answered it and found out that it was Katie's father on the other end. Katie was crying and then answered the phone. Big Brother then asked Katie if she would like to hang up the phone on her father as part of the yes-no task. Katie continued to cry, told her dad that she loved him and then hung up the phone. Next up, Big Brother asked all of the housemates if they would like to take a dip in the swimming pool exactly as they are. They said yes and all proceeded to jump in. Sonia then crossed live to the house in preparation for tonight's eviction. She told the housemates that she can now announce one nominee that has received enough votes to save them. Sonia revealed that Travis will not be going home tonight.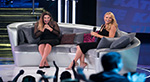 It was then time to reveal who would be the next housemate evicted from the Big Brother house, Priya or Katie. Sonia announced that it was time for Katie to go. Katie then made her way out of the house and on to the stage with Sonia. Sonia revealed to Katie that she received 24% of the votes to save, while Travis received 36% and Priya received 40%. Sonia asked if she thought that having the power the first week was a good thing or a bad thing for her. Katie said that it got them off to a rocky start and that even though everyone wants the power, they no longer do once they get it. Sonia asked Katie who is running the house. She said that she thinks that Lawson may be trying to. As for who is flying under the radar, Katie said that she doesn't believe that anyone is. Finally, Katie said that she feels as though Sam or Sandra will win Big Brother. Before wrapping up the show, Big Brother played a clip of the intruder that will be brought into the house tomorrow. Katie felt that the boys would be so jealous of him, while Sandra is going to be stoked. She figured that Skye would go "boy crazy".
Read our other recaps here.