Big Brother Australia 2014 - Day 24 Recap - An intruder enters; 7 housemates are nominated
October 1, 2014
Ryan told Sam and Sandra that he feels as though there is a divide in the house, as it's the older crew vs the younger crew. Sam told Ryan that he can take some solace in knowing that Skye will be nominated tonight. Ryan felt that David may slip through nominations this time. Sam said that he may be right, adding that he will give David another week. Priya felt that the biggest element that is missing from the house without Katie there is that the stereotypical mean girls are not mean anymore. Priya believed that the rift between Lisa and Skye would continue to grow, while Lisa and Aisha would get closer. She also thought that Cat and Skye would get closer, which would lead the boys to go in different directions. Priya did not know which side she would be on, though she said that she would not have a herd mentality. Lisa went to the diary room and began crying, saying that her experience is going to change now that she cannot share it with Katie. Lisa told Ryan that the biggest geeks in the school have taken over and have locked up the cheerleaders and the jocks, picking them off one by one.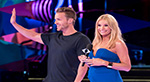 Sonia then introduced us to the intruder, Leo. Sonia told Leo that she loves his American accent. He corrected her and said that it's Canadian. Sonia then brought up that Leo does not own a TV, asking him if he has seen any of the show. Leo said that he has not. He explained that he is really active and enjoys being outside a lot. Sonia wondered why he decided to enter the house. He said that it is a once in a lifetime experience and there is nothing else like it. Sonia then reminded Leo that he cannot tell the housemates about anything that has gone on outside of the house, before sending him in. Leo entered the sanctuary. Big Brother welcomed him to the house and offered to have one housemate come and bring him up to speed. Based on the housemates' photos, Leo said that he would like to meet Aisha.
It was then time to watch Katie's parting message. She told Skye that she cannot deal with Skye's tantrums. Katie said that she gets paid to work with children, but she is not paid to be there with Skye. She advised Skye to tone it down a notch. Katie said that the biggest issue in the house at the moment would have to be the love triangle between Jake, Skye and Lisa. Skye said that she doesn't feel that Jake is as honest as he lets on. Lisa told Skye that she is done with Jake, while Skye is head over heels for him. Skye explained that Jake had made it sound as though Lisa said that she liked him, but Lisa said that it never happened. Skye wondered who she should trust, Jake or Lisa. Lisa said that this isn't about her, it's about Jake wanting to kiss the two of them. Lisa was frustrated and went to Jake to vent about her talk with Skye. Skye told Priya that she does not understand why Jake had to tell everyone about them kissing last night. Skye said that she attracted to Jake intellectually, though she doesn't know how Lisa feels about it. Priya then went to Lisa and relayed her conversation with Skye.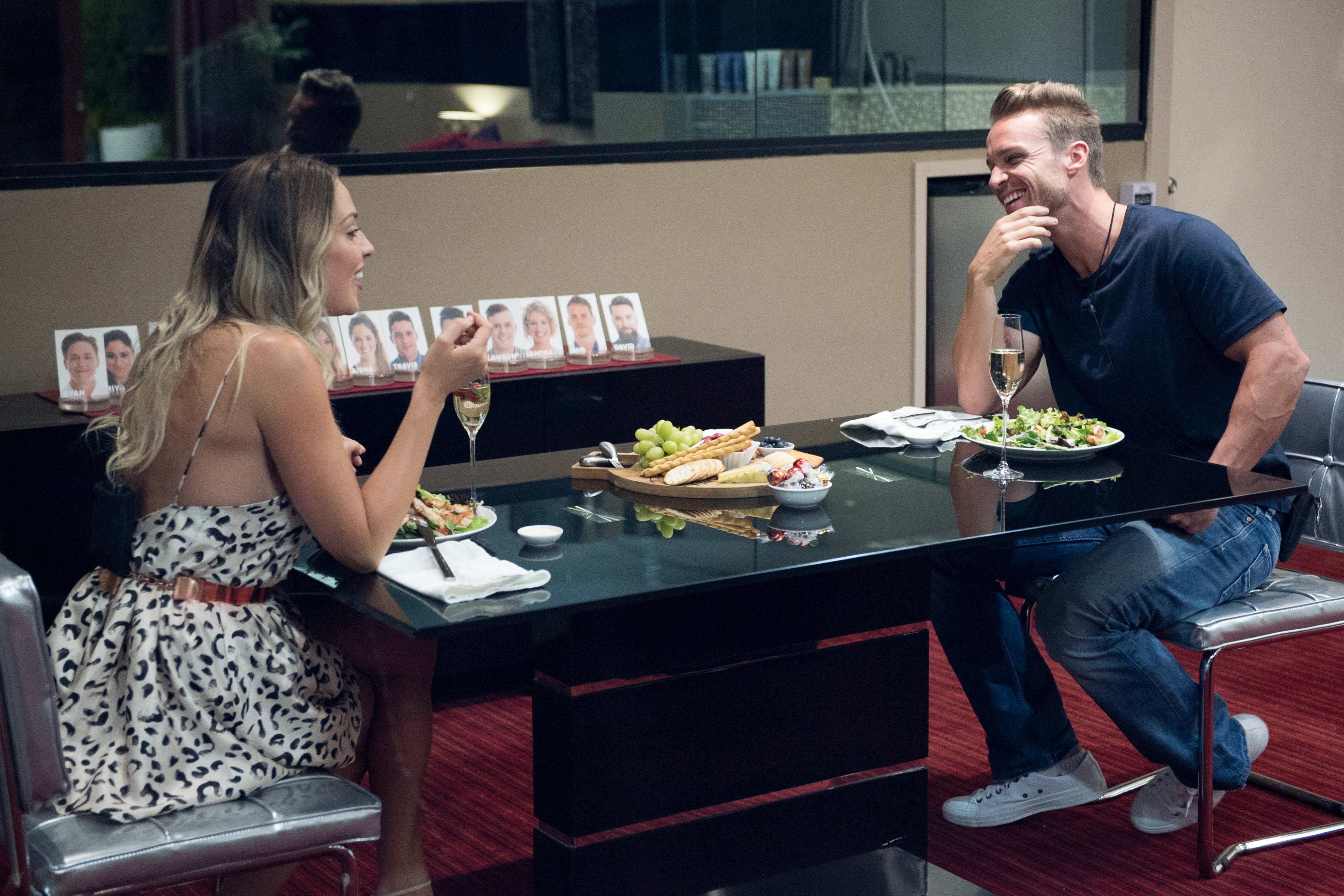 As part of the yes-no task, Big Brother asked Lisa if she would like to have dinner with a mystery man. Lisa said yes and was then shown video of Leo and told that he is the first intruder of 2014. Big Brother told Lisa that she must brief him on all of the other housemates and on life in the Big Brother house. Lisa then made her way to the sanctuary and met Leo. Leo told Lisa that he does not own a TV and has never watched Big Brother. Leo said that he has lived in Australia since 2007 when he moved over from Canada. Lawson and Cat were called to the diary room as part of the task. Big Brother asked Lawson if he would like for Cat to slap him in the face with a fish. He said yes and proceeded to get slapped with the fish. Big Brother then called Lawson and Sam to the diary room. Sam slapped Lawson on both sides of the face with the fish. It was then time for Lawson and Jake to go to the diary room to repeat the task.
David told Sam that he has been thinking about nominations and feels as though they really have a chance to be strategic. He said that his gut feeling is that anyone that has been involved in a confrontation over the past two or three days will be nominated. Sam wondered what his power play would be. David figured that it would be that he would get to listen to three people's nominations and that he would choose him because he doesn't know where he is at. Sam said that he would not waste one on him. Sam went to Sandra and Ryan and told them that the only conversations that he has with David are strategy and it's boring. The housemates were then called to the lounge. Big Brother played a video of Aisha's grandmother telling her that Big Brother booked her a flight to Australia to see her once she gets out. As part of the task, Big Brother asked if Aisha would like to have the ticket cancelled. Aisha said yes.
It was then time nomination. Nominations went as follows:
Travis
Priya - 3 points - Travis said that he finds it difficult to hold a conversation with Priya.
David - 2 points - Travis thinks that David is playing the game strategically, trying to start fights.
Aisha
Jake - 3 points - Aisha did not like that Jake had lied about hers and Travis' reaction to a prank that was played, making them look bad.
David - 2 points - Aisha said that David is a grown man acting like a little girls.
Skye
Lisa - 3 points - Skye was upset that Lisa said that she was putting on an act and is over the top.
Ryan - 2 points - Skye said that Ryan is a threat to him in this game because he is loved by everyone.
Jake
Jason - 4 points - Jake explained that Jason goes around to everyone and gets knowledge, and knowledge is power, so Jason is the most powerful player.
David - 1 point - Jake said that David went behind his back and broke his trust over things that he felt were in confidentiality.
Lisa
David - 3 points - Lisa said that she does not trust him and he walks in on conversations so that he can relay it to others.
Cat - 2 points - Lisa felt that Cat is trying to be younger than what she is.
Priya
Cat - 3 points - Priya said that they do not click and that Cat is trying to be someone that she is not.
Lawson - 2 points - When Lawson was HoH, Priya felt that the power had gotten to his head and he was behaving weirdly.
David
Jake - 4 points - David felt that Jake was not the same person that he was in the beginning, and he is playing with too many girls' hearts.
Priya - 1 point - David said that he does not have the same connection with her that he does with the others.
Jason
David - 3 points - Jason said that David is specifically involving himself in drama.
Lawson - 2 points - Jason felt that Lawson gets snappy and aggressive rather quickly.
Lawson
Travis - 3 points - Lawson felt that Travis made a big deal about people letting him speak, yet he didn't listen to others when it was their turn.
David - 2 points - Lawson said that David has thrown people under the bus on nomination day the past two weeks.
Sandra
Skye - 3 points - Sandra said that Skye's immaturity is getting to the house.
David - 2 points - Sandra felt that he had been quite disrespectful this week and is a hypocrite when he says that she personally attacks him yet he does it to her.
Cat
David - 3 points - Cat said that David is focusing too much on strategy.
Lisa - 2 points - Cat felt that she needed to be on her guard constantly around Lisa.
Ryan
Skye - 3 points - Ryan said that Skye has bad manners.
Travis - 2 points - Ryan felt that Travis is inconsiderate of others in the house.
Sam
Sam was given the "Deadly Dozen" Power Play. He could reveal any of the housemates names at the cost of 1 point per name. He has 12 points to nominate with. Sam wanted to see where David sits on the nomination board. He then asked where he sits and also where Lawson sits. Finally, he asked where Lisa sits. Sam said that he has developed a friendship with her. Sam then chose to nominate.
Travis - 3 points - Sam hoped that it would keep Travis nominated this week.
Aisha - 5 points - Sam said that if they are both nominated it may make them question if their relationship is damaging.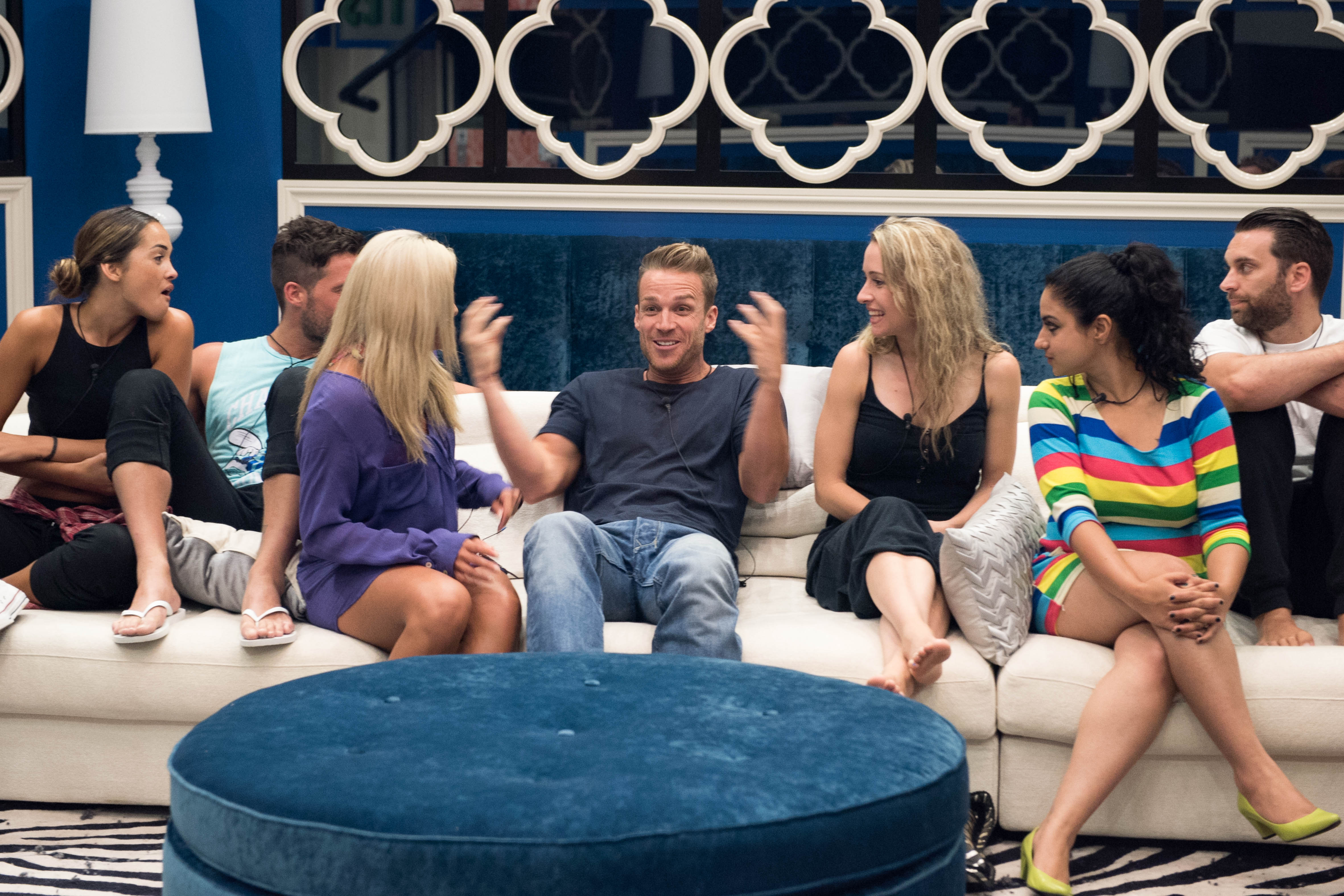 Big Brother then checked in with Leo and Lisa. Leo said that he was excited to enter the Big Brother house. It was at that point that Big Brother instructed Lisa to escort Leo in to the house. He met his fellow housemates in the kitchen. Big Brother told the housemates that their numbers have just increased by one, but that next week they will decrease by two. There will be evictions on Monday and Tuesday of next week. It was then time to reveal this week's nominees.
The nomination results were as follows:
David - 18 points - NOMINATED
Travis - 8 points - NOMINATED
Jake - 7 points - NOMINATED
Skye - 6 points - NOMINATED
Aisha - 5 points - NOMINATED
Cat - 5 points - NOMINATED
Lisa - 5 points - NOMINATED
Read our other recaps here.