America nominates Amanda, for a second straight week
August 3, 2013
A Recap of Day 44 in the Big Brother 15 House
9:00-10:00 AM: Andy asked Helen who she would like to see make it far. Helen said that it would be great if the two of them made it to the end with Spencer, cause he wouldn't be able to win at endurance. Andy agreed but said that it would be tough to drag him all the way to the end. Helen then said that they need to backdoor either Amanda or McCrae soon. She said maybe McCrae first because he is strong at endurance and because Amanda will always be a target and she believes that they could beat Amanda at the end. Helen pointed out that someone else is going to go after Amanda eventually, so the two of them don't have to. Finally, Helen discussed that both Aaryn and GinaMarie need to go. Helen said that Aaryn is good at the game, while GinaMarie is stronger than they had originally thought.
11:00-12:00 PM: For a second straight week, America nominated Amanda as the 3rd nominee. Along with the HoH and the three nominees, Judd and Spencer were selected to play in the veto competition. Amanda is convinced that Judd is the MVP, saying that she is 100% sure of it. GinaMarie told Amanda that she would use the veto on her, but would need reassurance that Aaryn would not go home if that happened. Amanda said of course and that Candice has to go. Judd told GinaMarie that he wants Jessie to believe that he would use the veto on her, but he intends on using it on Amanda. Judd said that doing so will finally show that he and Jessie are separated.
Judd told GinaMarie that he wants Jessie to leave next week, even before Spencer. GinaMarie was fine with that as long as Candice leaves this week. Amanda said that Spencer told her that he would use the veto on her in order to show his loyalty. Aaryn was quite upset to hear that everyone plans on using the veto on Amanda, seeing as she believes that she would be the replacement nominee. People have been reassuring Aaryn that she would not go home even if she was on the block, but she isn't buying it.
Helen told Andy that he feels as though they have to evict Candice this week, seeing as GinaMarie and Aaryn would flip out if Candice didn't go home. She told Andy that Aaryn and GinaMarie are good at competitions, so they can use those two more than Candice as well. Andy agreed that Candice needs to be the one to go this week.
Andy spoke to both McCrae and Amanda, separately, to tell them that he believes that Aaryn is in solid with them. He cautioned them that Amanda trying to get use GinaMarie to use the veto on her could hurt that relationship. McCrae agreed and said that he will tell Amanda to back off, while Amanda thought that Aaryn was acting selfishly. McCrae went up to the HoH room and spoke to GinaMarie and Aaryn. He told GinaMarie that she should keep the nominations the same if she wins the veto. They all agreed that Candice will go home anyway, so it shouldn't matter if Amanda stays on the block. Amanda joined them but quickly stormed out, saying that everyone else can go worry about themselves while she is stuck up on the block for a second straight week. McCrae and Aaryn agreed that Amanda is doing the opposite of what she tells everyone else to do, simply worrying about herself and not the group as a whole.
Amanda then went to Judd and began crying, saying that Aaryn is telling people not to use the veto on her. Judd reassured her that he will use the veto on her if he wins it. McCrae joined their conversation, explaining to Amanda that it will make her look like a huge schemer if she convinces GinaMarie to use the veto on her when her friend Aaryn could be the replacement nominee. McCrae said that it's not worth it and gives people another reason to target Amanda. Amanda wasn't satisfied with that logic, saying that Aaryn is being selfish. She also questioned where McCrae's loyalty lies. McCrae told Amanda that she is acting selfish as well. Amanda said that Aaryn is stomping around like a three year old and McCrae is acting like the dictator in their relationship, saying that he is yelling at her for something every day now. Judd told Amanda that if she continues to act like this, it becomes harder for him to use the veto on her. He said that it would look like she bullied him into it and he is her bitch. Judd said that he will still use it on Amanda, but told her to calm down. McCrae told Amanda that they need to focus on playing smarter, not harder. Everyone reassured her that she has the votes to stay.
2:00-3:00 PM: The veto competition concluded. The results are as follows:
Jessie won the Power of Veto, Judd won $5,000 and Spencer won a trip to the Bahamas.
Candice has to wear a "clownie-tard" for the rest of the week.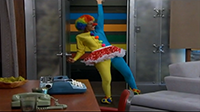 Amanda has a "50 shades of orange" punishment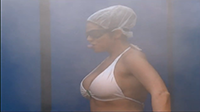 GinaMarie has to wear a "Cone of Shame" for the next 48 hours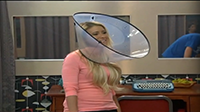 We missed some drama while the feeds were down for the veto competition, as Candice revealed to Judd that Amanda had been saying that he was the MVP and was the one that has been nominating her. Judging by the way that McCrae was scolding her, Amanda did not control herself very well. McCrae was telling Amanda that now they will have to do so much work and that she might go home, while they would have had an easy week had she just said nothing at all. Amanda denied ever saying that Judd was MVP in front of Candice, but she did do it earlier this morning. Helen later confirmed that she was in the room when Amanda said it in front of Candice.
Jessie went to McCrae to express her concerns that she will just go right back up on the block next week, even after saving herself this week. McCrae made her a deal that he would not nominate her next week if she voted Candice out this week. He later told Amanda that he would nominate Jessie and Spencer. Meanwhile, Elissa was speaking to Amanda and trying to save Candice. Elissa was pushing for Spencer to be the one to be evicted. Amanda went along with it and said that she really didn't care who went as long as it wasn't her. Andy, Helen and McCrae eventually made their way into the conversation, quickly squashing any hope Elissa had of saving Candice. They all told her that Candice has to go and that there is no way that they are saving her.
Judd told McCrae that he almost went for the veto instead of the $5,000 cause Candice told him that he and Amanda were after him. Judd went on to say that he is 100% with McCrae, but he would go after McCrae 10 times harder if he is coming at him. McCrae had to do damage control after Amanda's comments, telling Judd that neither he nor Amanda are targeting him. McCrae said that Amanda was bringing everyone up as a potential MVP, not just Judd. Judd told McCrae that he is totally on his side and that he would take McCrae to the Final 2 over Andy. Judd explained that the jury will be loaded with women and they will love Andy. Judd later touched base with Amanda, telling her that he is not the MVP. Amanda denied thinking that he was the MVP and said that she doesn't even recall saying that.
4:00-5:00 PM: Aaryn starting telling numerous people that Elissa wanted Candice to stay, hoping that she could get Elissa nominated in Jessie's place. Aaryn is set on Candice leaving and did not want to risk anything crazy happening. Spencer was in the room and said that there is no way that he would not vote Candice out, so he is on board with the idea of nominating someone that wouldn't vote to evict Candice. Aaryn said that there is only one person; Elissa. Shortly thereafter, Amanda got Aaryn alone for a one on one. She explained to Aaryn that Spencer has to be the replacement nominee. Amanda said that she is 100% sure that Elissa will not vote her out, while Spencer could join up with people like Helen, Jessie and Judd to flip the house. Aaryn kept saying that Spencer would end up going home if Elissa isn't on the block, but Amanda shot that down and said that Elissa's one vote won't make a difference. Aaryn eventually gave in and said that she would have to talk to GinaMarie, as GinaMarie was leaning towards nominating Elissa after hearing that she wanted to keep Candice. Aaryn told Amanda that she will always be loyal to her, but asks that Amanda thinks about her as well.

5:00-6:00 PM: Aaryn went to work on GinaMarie, telling her that nominating Elissa will only hurt the progress that they have made with her recently. She explained that Elissa would not go home anyway, so it's not work risking her coming after them. GinaMarie was hesitant, saying that if Elissa wants to play dirty (by trying to keep Candice), she would play dirty back. Aaryn told her that Spencer would not be going anywhere if he were to be the replacement nominee. Judd also chimed in by saying that it would ruffle the fewest feathers if Spencer went up. GinaMarie eventually gave in and said that she would nominate Spencer in Jessie's place.
Next up, it was Helen's turn to do some convincing. She had to convince Elissa that it was best for their games to vote out Candice. Helen started off by saying how mad she was that Candice mentioned their names when saying that Amanda had been accusing Judd of being the MVP. Helen said that it was totally unnecessary to include them and that Candice continually hurts their games. Helen also explained that Candice tried to flip the house on them a week ago. Helen then said that Elissa will be the odd man out and go on the block if she chooses not to vote to evict Candice. Elissa acknowledged that Helen was right, but said that it sucks because all this does is give GinaMarie and Aaryn more control.
8:00-9:00 PM: Amanda and McCrae discussed that they can't rely on Judd. Amanda said that she thinks that she can rely on Aaryn, McCrae and Andy. She then pointed out that GinaMarie is really starting to like them. Both Amanda and McCrae agreed that they would not put GinaMarie up and would like to see her stay for a long time. Amanda said that Helen and Elissa need to go soon. McCrae was concerned that the remaining one of the two would rally the troops and come after them. Amanda said that's why Helen needs to go first, since people won't listen to Elissa. She then said that she doesn't even think that they will have to take Helen and Elissa out, as people will do it for them.
12:00 AM-1:00 AM: Earlier in the day, Jsssie had spoken to Helen about taking out Amanda. Helen brushed it off and said that she thought that next week would be the time to do it. Jessie again brought it up, telling Helen that it would be a big move but that's what the game is all about. Jessie said that Candice would still be a huge target, while there won't really be any targets left if she goes home. Helen was still hesitant, saying that there are still a couple of targets left in GinaMarie and Aaryn.
1:00-2:00 AM: Helen approached Elissa to see where her head was at regarding evicting Amanda. Helen made it clear that she didn't think that this was the week to do it, but wondered if Elissa agreed. Elissa was focused on getting Spencer out, but Helen quickly shot that down. Elissa then said that she isn't happy with the idea of Candice leaving, as Candice is someone that can help their game. She told Helen that the two of them would be much more in control of stuff if Amanda wasn't there. Helen felt that there would be too many targets on them if they evicted Amanda. Elissa said that the problem becomes that nobody that is left in the house will ever nominate Amanda. Helen pointed out that the MVP could do it, but Elissa feared that the MVP twist would be over after this week. Helen told Elissa that the only way that she could take Amanda out is if Judd and Andy were on board. Elissa asked if Helen planned to talk to them about it. Helen said no. She said that Jessie would have to be the one to get Judd on board and would have to have Judd approach them with the idea. Helen again suggested that next week would be a better time to go after Amanda.
Read our other recaps here.