Devin calls a house meeting
July 2, 2014
9:00-10:00 PM: Amber was hanging out and chatting in the HoH room with both Nicole and Christine when Devin decided to join them. He then began to call out Amber with regards to the way that she has been treating Caleb. He asked why she is grumpy and not talking to Caleb. Amber explained that she has been acting normal and that Caleb gets up and leaves whenever she comes around. Devin said that he doesnt want her thinking that Caleb is all about himself. Amber told him that Paola has made things a bigger deal than they were. Devin then said that Paola came to him this morning to check in and see if Caleb is alright.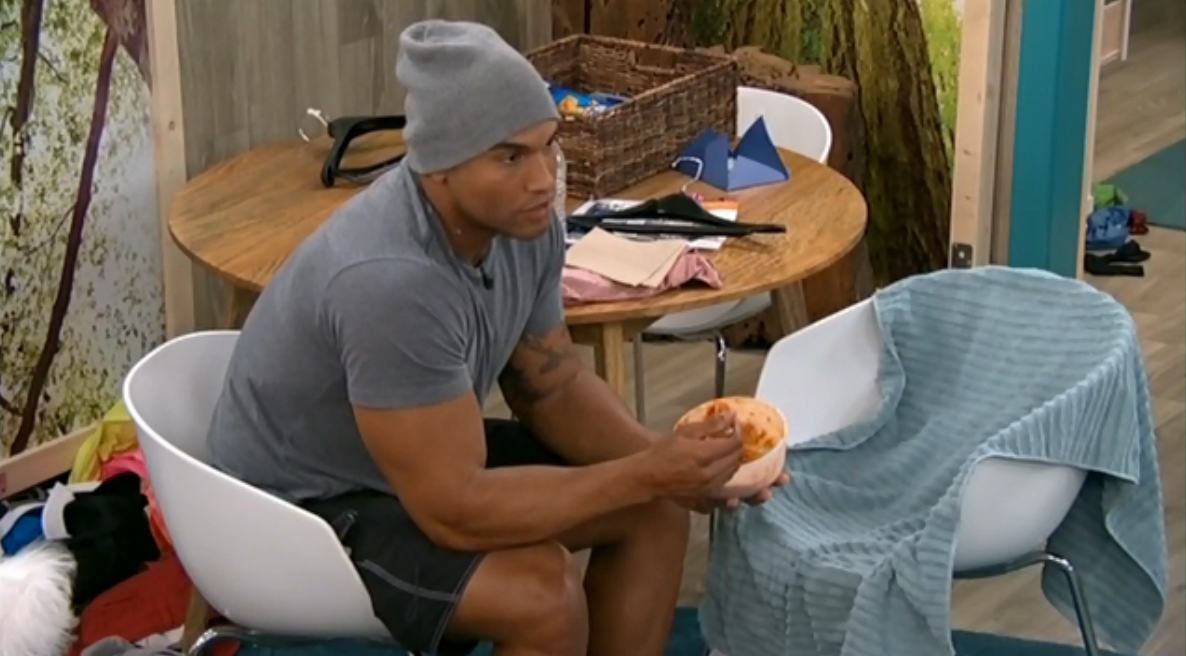 Devin said that he feels bad for Caleb because he hasn't gotten a chance to talk to Amber himself, while everyone else has been talking about things. Amber pointed out that everyone is talking about it because Caleb has been talking about it with everyone. Devin added that he doesn't like that she has been bad mouthing Caleb in the house. Devin explained that what she said to Paola was not alright and that is why he told her to stop. Amber said that that is not the case, but okay. As they were leaving the HoH room and heading back downstairs, Amber told Devin that she does not appreciate him coming at her like that when he is not even correct with what he is saying.
Nicole had been in the HoH room for much of the Devin and Amber conversation. She went downstairs to report back to Christine and Cody. Cody got the impression that Devin was deflecting the blame onto Paola in order to cover his own ass. Cody was fired up about it, saying that Devin is a liar and that Caleb is going to see it. In the event that Caleb didn't see it, Cody said that he would call it out in front of him. Cody told the girls that Devin is fake, a dictator and bully, and that he will be getting backdoored if he (Cody) wins HoH in Week 3 or 4.
Devin spoke with Caleb to relay his conversation with Amber. Devin let Caleb know that he felt bad for not standing for Caleb in the moment. He asked Caleb if the two of them are now good. Caleb said he is good but would feel better if Amber would apologize to him.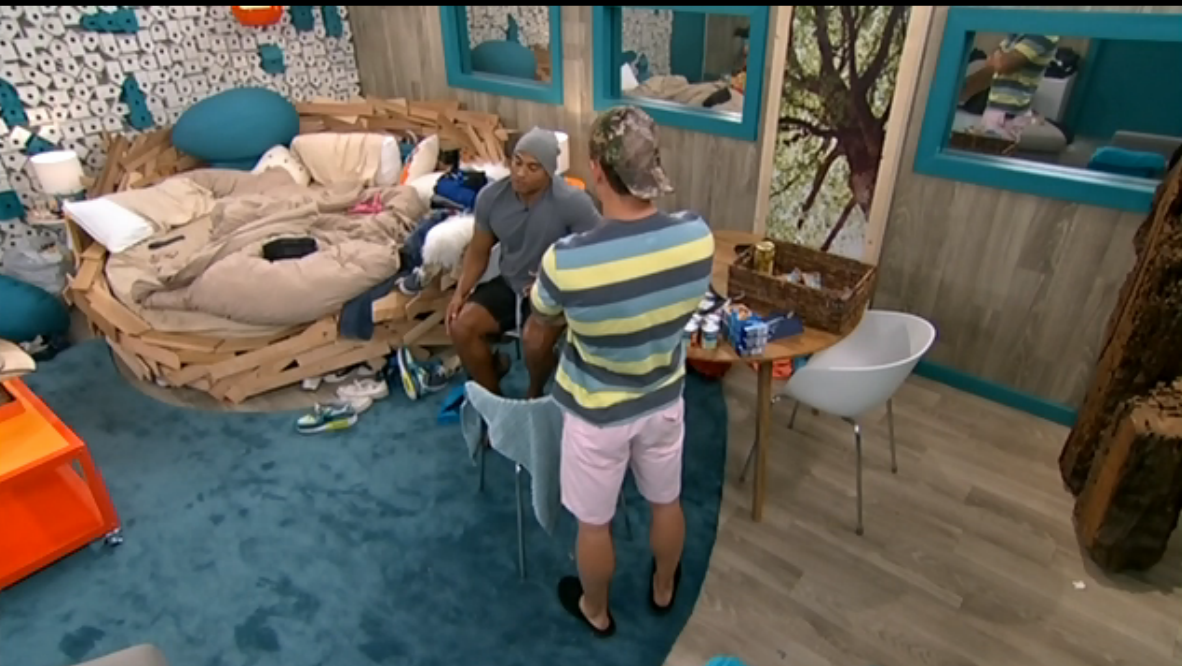 Devin let Caleb know that he would be fine with Caleb going to Amber to talk and even telling her that he was the one that told him the things that she said about him. Before wrapping things up, Devin said that it's just a game and the thing that he takes away from it all is that he got the opportunity to meet and start a friendship with Caleb.
10:00-11:00 PM: Cody had a chat with Caleb to see what went down. He said that he heard that Devin was pushing things onto Paola. Caleb clarified that Amber had told Devin that Paola was running around and saying things since she was the one that Amber was talking to when things went down. Cody asked Caleb how he is feeling now. He said that he is just waiting for Amber to apologize at this point. Caleb mentioned that it sounded like Amber feels really bad, and that she may not have even said all of the things that Devin accused her of saying.
Devin began going around the house and informing people that he wanted to call a house meeting to get some things off of his chest. Frankie immediately began doing damage control, telling Caleb that he had just had a chat with Amber and she said that Devin misheard things and then blew them out of proportion. Frankie suggested that Caleb speak with Amber himself. Frankie then went to talk to Amber, who was locked in the bathroom with both Jocasta and Paola. Frankie pleaded with her to go to Caleb, hug him, and tell him that everything that she said directly to his face is true. Frankie wanted to put an end to things before they blew up any further.
Amber went to Caleb and gave him a hug. He asked her if she as okay. She told him that she is fine. Amber then began explaining that she doesn't know what Devin said to him, but everything that she has said directly to him has been the truth. Amber said that she hopes that the two of them are still cool, but she is not happy with Devin right now.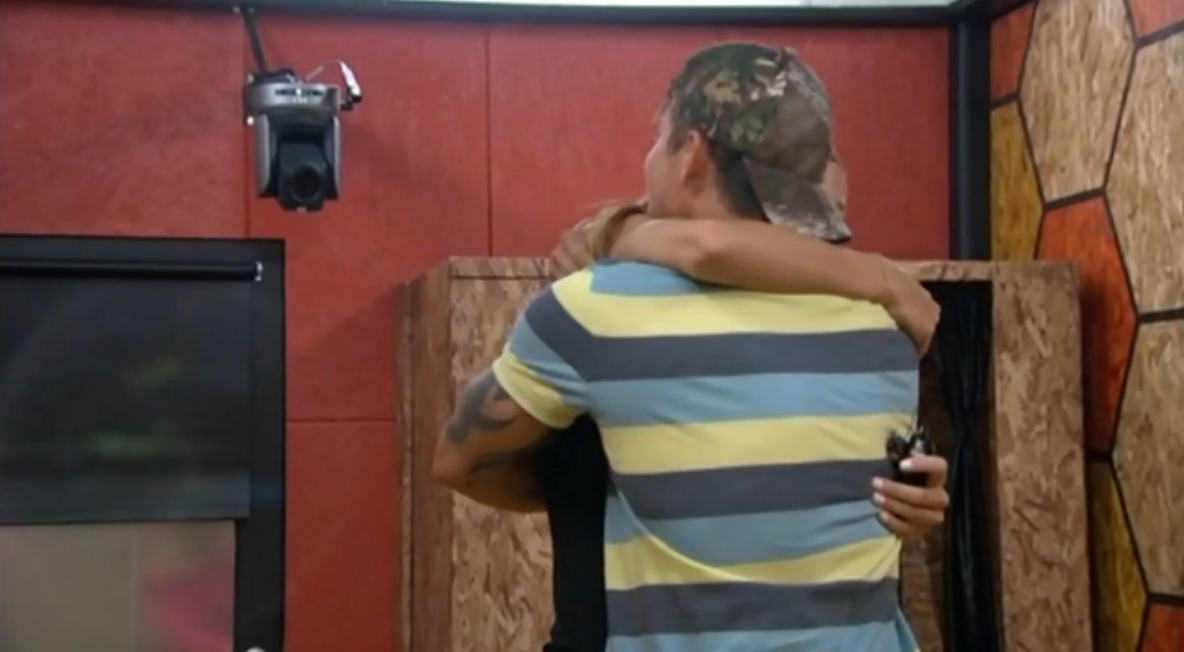 Caleb said that he didn't understand how they went from dancing with each other one day to her saying something that hurt his feelings the next. Amber then explained that what Devin told Caleb was not even about Caleb specifically. Amber assured Caleb that she and Paola were having a girl talk and were just discussing guys in general when she mentioned them only thinking about themselves.
11:00-12:00 AM: Devin went to wake Donny up in order to tell him something. Devin said that he came into the house wanting to play with honesty and integrity but everything changed once he walked through the doors. He then revealed that he was the sole reason that Donny was nominated this week. Devin let Donny know that he felt that he was hiding something and that he could not be trusted, so he got him put up on the block even though Caleb didn't want him up there. Donny said that he felt better knowing that Caleb didn't want him nominated.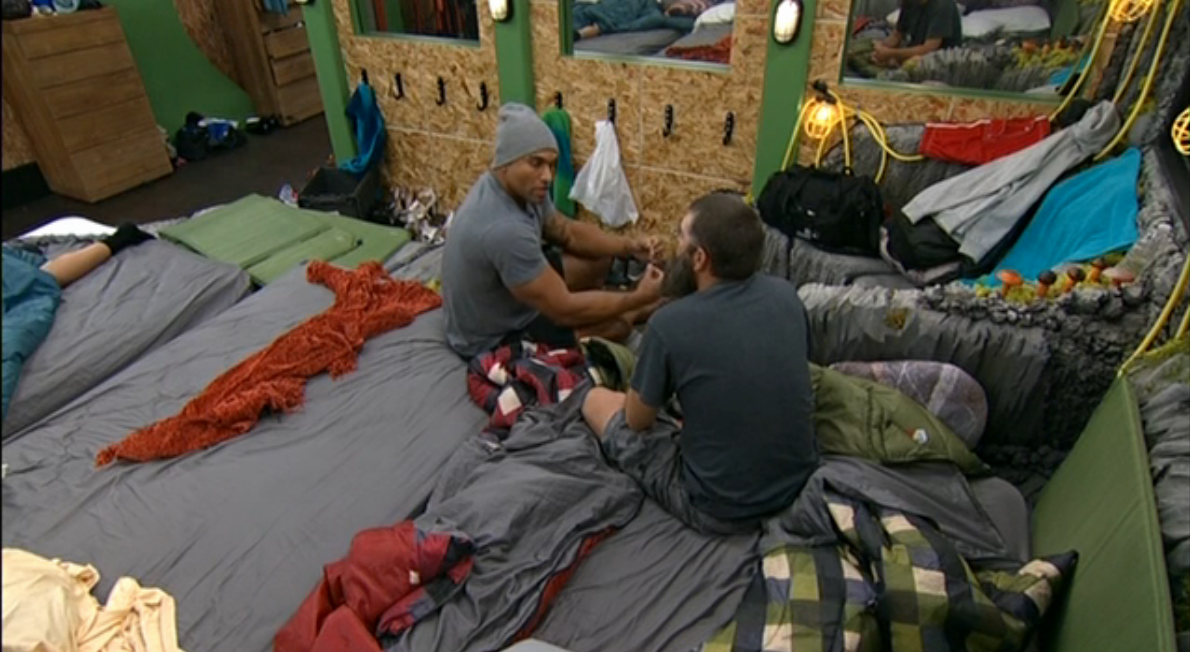 Devin then told Donny that he fully expects him to nominate him if he wins HoH, and that he is fine with going home over what he did to him. Donny asked Devin if he is still a target of his. Devin said no. Devin then went on to tell Donny that he wants his daughter to know that there are things more important in life than money, so he is being honest with things. Donny took it all well and said that he appreciates Devin being honest with him, and is glad that it didn't result in him going home. Devin said that he hopes that Donny will forgive him at some point. Donny said that all is already forgiven and that Devin has nothing to worry about. Donny explained that he will not hold it against Devin, so don't beat himself up over it.
Amber and Caleb were still talking, so Devin was holding off on beginning his house meeting. Meanwhile, Frankie and Christine met up in the HoH room to discuss what was going on. They reassured each other that they will have each others backs and that the other guys still have them even if Devin blows everything up. Frankie said that they may have to move forward with getting Devin out sooner than they had intended.
Devin decided to move forward with the house meeting without Caleb and Amber. Everyone else besides Donny was in attendance. Devin began the meeting by saying that he came there to play a new type of game that had not been seen before, one centred on honesty and integrity. When he walked throughout he doors, he said that he realized that the greats of the game had not gone through the game without being deceitful and lying at times.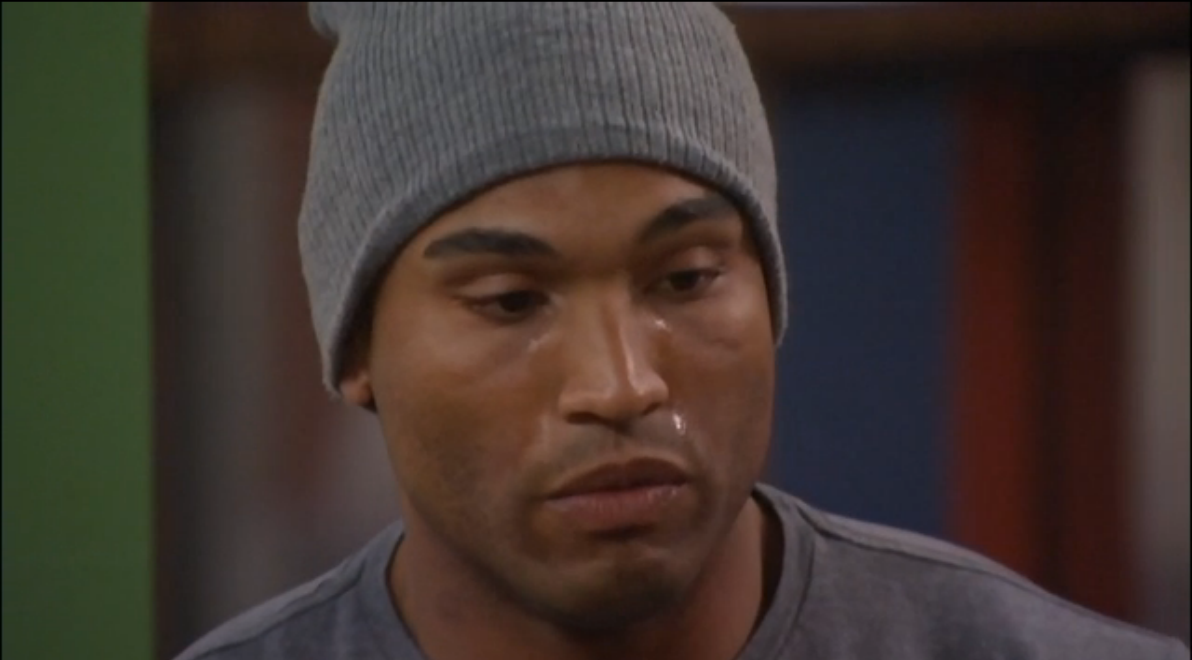 Devin said that he then made a mistake in judging too soon, forcing Caleb's hand and having him nominate Donny. Devin said that everyone there knows that Donny is the kindest and most caring person, so he feels terrible about what he did to him.
Devin continued on, saying that no amount of money is worth compromising his integrity and who he is. He explained that he wants his daughter to play this show back down the road and realize that her father taught her that she didn't have to compromise.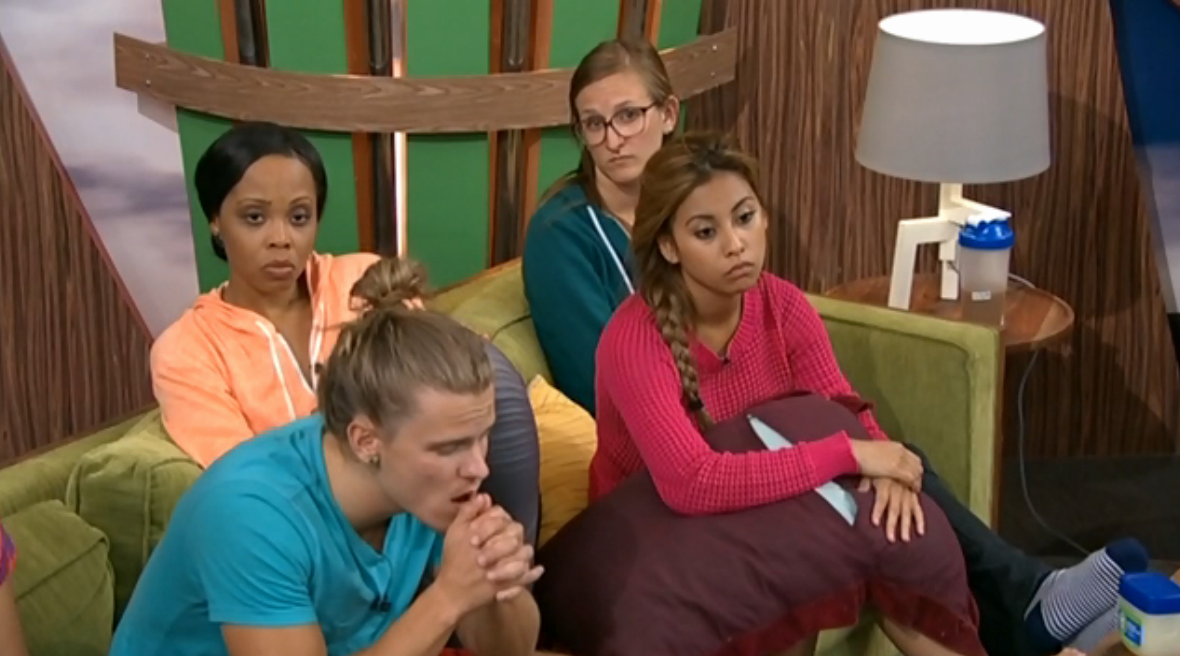 Devin said that he intends to play an honest and integral game from here on out, being a role model to those watching. He ended the meeting by saying that he hopes to have people clapping for him and being proud of him whenever he ends up exiting the house. Devin then walked up to the HoH bathroom and broke down crying by himself.
The rest of the houseguests began scrambling and discussing what just happened. Victoria told Frankie that Devin pretty much just told the world that he is a bully by saying that he "forced Caleb". Frankie responded by saying that Devin just united the entire house against him. Frankie and Zach then talked things over, agreeing that Devin has to be the next one to go. Christine, Cody and Zach were talking things over as well, with Christine saying that Devin will not change the way that he has acted up to this point.
12:00-1:00 AM: Caleb and Amber were still clearing the air with one another. Caleb did admit that he thought that he was going to have to "terminate" Amber early. Amber laughed and said "don't say that!". Caleb mentioned that he was saying that she went from going to the end with him to being the first one out of the Bomb Squad. Amber also admitted to having said that Caleb needed to go first as well. She then said that her hope was to go to the Final 4 with Caleb, Frankie and either Christine or Derrick. Caleb said that he would like to be with her and Frankie as well. Paola then joined them and backed Amber up, letting Caleb know that she had never said anything about him personally.
Frankie and Zach were filling Caleb in on what happened at the house meeting. Caleb was irritated that Devin said that he was the one that made Caleb nominate Donny, as Caleb stood by his story that he simply nominated the first male and female out of the HoH competition. Caleb said that he wishes that he were at the meeting, cause he would have corrected Devin right there. Zach said that he felt that the house meeting was a little bit selfish on Devin's part, as it only hurt their games. Zach said that Devin is not good for their games. Caleb responded by saying that it is what it is and that at the end of the day you can only trust yourself.
1:00-2:00 AM: Frankie and Zach quickly chatted by themselves after talking to Caleb. Zach questioned whether they should nominate Devin initially or backdoor him. Frankie said that it will depend on who wins HoH. He suggested that Devin could be nominated next to Paola so that they lose the Battle of the Block competition. Frankie added that putting Devin on the block could totally break him down.
2:00-3:00 AM: Brittany, Paola, Amber and Jocasta were in the bedroom discussing Devin. They were sharing stories about times in which Devin has made living in the house uncomfortable for them. They do not like the way that Devin treats them. Amber said that she didn't see the point in Devin stirring things up with her. Amber added that her conversation that Devin overheard had nothing to do with Caleb and that she has not bashed anyone, so it hurts that Devin accused her of doing so. Brittany encouraged Amber not to let Devin break her down. It was evident that they are looking forward to getting Devin out of the house, but they mentioned that they will have to wait to see who wins HoH and then make a plan from there.
Read our other recaps here.