Gary wins the Power of Veto
April 20, 2013
A Look Back at Day 59 in the Big Brother Canada House
Gary won the Power of Veto! It was a competition where the houseguests needed to take punishments to earn points. Gary's punishments included staying awake for 24 hours straight, being a have-not for the remainder of the season and wearing a prison outfit with a ball and chain for a week. He also cannot shower for a week.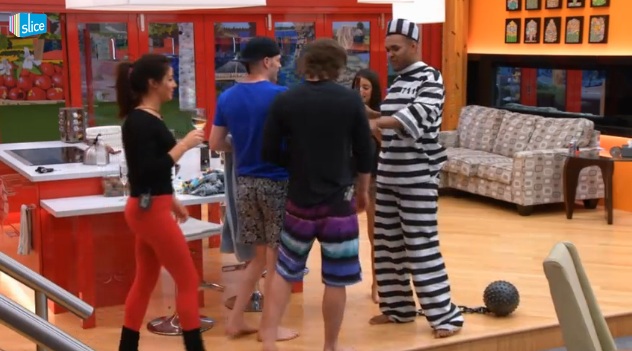 Andrew now has a mohawk.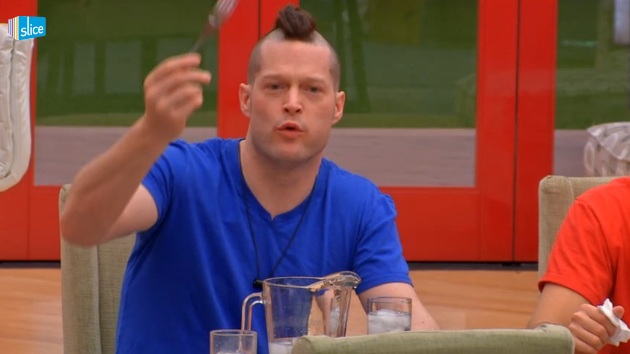 Jillian has to be the bathroom attendant for the day.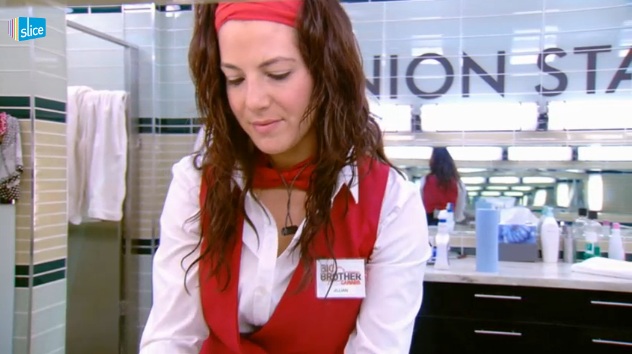 Talla had to cut some of her clothes. There were two prizes, one was $1,000. It is unclear who won the prizes at this point. There may also have been additional punishments that the houseguests have not yet discussed.
Right after the feeds returned from the veto competition, Talla and Gary were getting to work. Knowing that it was inevitable that she would be named as the replacement nominee, Talla started working on the votes. In exchange for Gary keeping her around, Talla promised Gary that if she won HoH, she would not put him on the block. Talla and Gary shook on the deal. Talla then spoke with Jillian. The girls agreed that they want each other in the Final 3 and need to stick together. They discussed that it would be stupid to go to the Final 2 with the guys, cause they wouldn't be able to win.
Jillian also spoke with Gary and tried to determine what was the best move to make this week. Gary felt that they could trust Talla more than Andrew, but said that he would do what is best for the himself, Emmett and Jillian. Gary said that Andrew is very strong. When Jillian asked Gary if he would take her to the Final 3 over Talla, Gary said "duh!" and mentioned that "me, you and Emmett Final 3". Jillian eventually mentioned that Emmett is leaning towards taking out Andrew this week. Gary said that he and Jillian can sit down and have a talk when they get to the Final 3.
Dan and Emmett had a talk about Emmett's game moving forward. Emmett told Dan that his main concern is move on to next week with people that will take him to the Final 3. He's not so much worried about the Final 2, because he knows that he would have the opportunity to win his way there and plans to do so. Emmett explained that while it may be beneficial for Jillian to keep Andrew, it's not for him. Dan told him that it comes down to who do you want to go into that next veto competition with. Emmett replied by saying that when he goes into a veto, the only person that he is worried about is Andrew. Dan told Emmett that if he wants Andrew out, there's still a way that he can look like the golden boy. Dan explained that Emmett would have to ensure that both votes are to evict Andrew. Emmett said that Andrew will expect him to keep him if he gets to break a tie, but he would have to send him to jury.
Emmett again discussed that taking Andrew out gives him the best chance of getting to the Final 3. Dan advised Emmett to position himself so that he doesn't have to win anything and can still get to the Final 3. Dan mentioned that he would be safe if he won veto, if Jill won veto or if Gary won veto. Dan said that the only person that Emmett would have to worry about is Talla. Emmett told Dan that Talla wont win and is useless. Emmett also feels that Talla owes him big time for keeping her off of the block this week and the last time that he was HoH. He said that he can always remind her of that and tell her that at least she knows that he wont beat her in endurance.
Emmett pointed out that it sucks cause, if there wasnt a twist, Andrew would have won the veto and sent Talla home. He, Jillian and Andrew would be in the Final 3 right now. Emmett told Dan that he has cut the people that he doesn't feel would benefit him. Emmett said that he is there for one reason. Emmett let Dan know that he is going to do everything he can to get to the Final 2 with Jillian. Dan said that he needs to make sure that he can beat her. Emmett believes that votes that he would have include those from AJ, Andrew, Alec and Peter.
The last real game talk of the night was between Dan and Jillian. Dan was puzzled as to why Jillian was so willing to take Emmett to the end when she felt that she probably wouldn't beat him. He said "from what you're telling me, you're cool with winning 2nd place". Dan went on to say that "you're telling me you're not willing to give up everything to get 1st place". Jillian confirmed that, saying that she is not willing to give up everything. Dan said that it's endearing that Jillian would stick with Emmett, but that doesn't get you $100,000.
As for this week, Jillian said that she would not have to worry about endurance if she voted Talla out, but she also has thing with Talla and Talla would take her. Jillian felt as though her vote doesn't matter this week, cause Emmett and Gary are best friends and can control the vote themselves. Jillian said that Andrew benefits her more than Talla. Dan advised her to position herself to have the best chance to win. Jillian said that she would for sure beat Talla in the Final 2, but she doesn't want Talla to win any money. All Dan could say was "but why?".
Dan had some fun with the houseguests. In order to earn their red Dan bandana.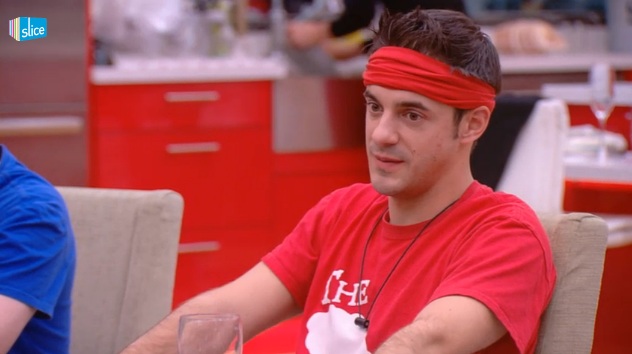 He gave each of them a task throughout the night. First up, Talla had to do a cannonball into the pool with the clothes that she was wearing at that point in time.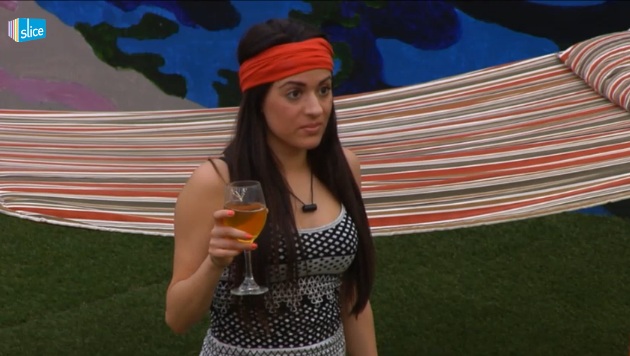 Next up was Andrew. Dan gave Andrew the task of kissing Jillian on the lips in front of Emmett.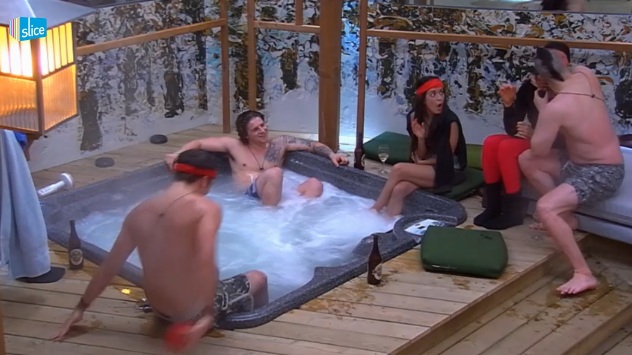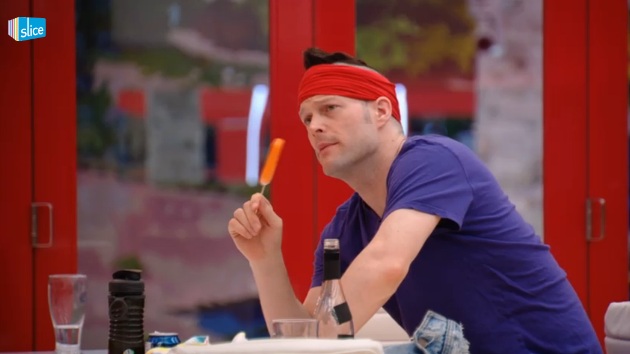 Emmett's task was to imitate Gary for 10 minutes.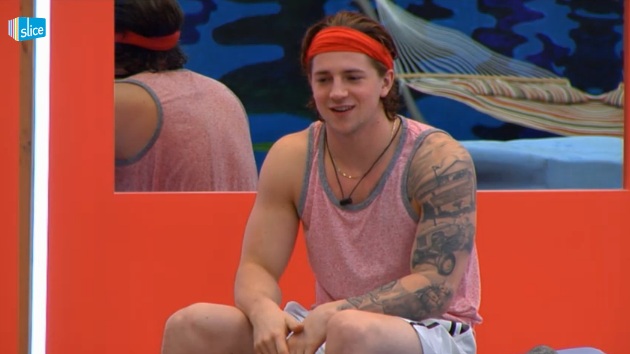 Dan gave Jillian the task of going outside and pouring an entire container of juice on herself while dancing. He told her that she must do it immediately in the clothes that she was in at the time.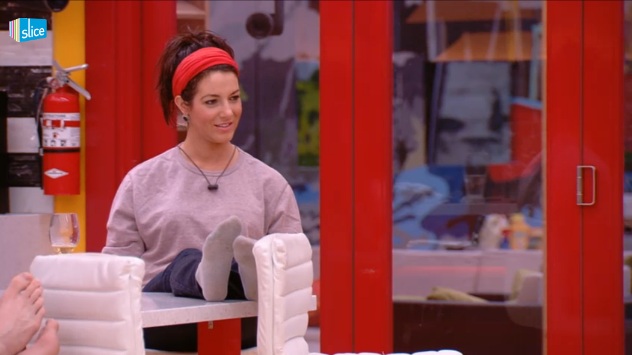 Finally, Gary was given the task of dumping a bowl of water on the first person to fall asleep. That person ended up being Talla.