The live feeds end; Talla looks to be leaving
April 28, 2013
A Look Back at Day 67 in the Big Brother Canada House
The feeds were set to go down for the remainder of the season today, meaning that we saw relatively little action. Emmett holds the lone vote and will have to evict either Gary or Talla. He still plans on evicting Talla, but he was visibly stressed over having to do it. Emmett plans to inform Talla of his decision beforehand, hoping that he can salvage her jury vote if he let's her down nicely. He kept asking Big Brother to let him know how much time they had, but to no avail.
While the live feeds stayed up later than the announced time of 12:00 PM ET, they were gone for good at 2:30. We did not get to see Emmett tell Talla of his decision. We were left with this message: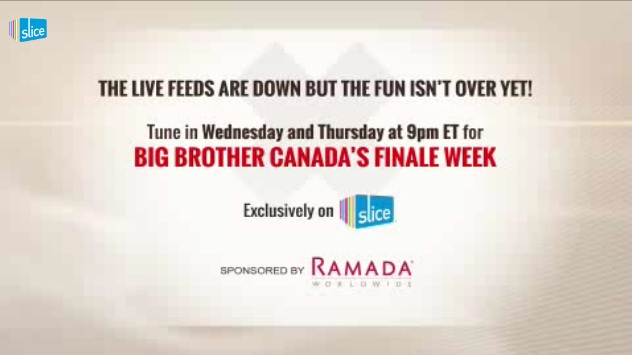 Wednesday's episode will air a taped eviction. Everything suggests that it will be Talla that Emmett chooses to evict. Thursday will be the two hour finale of Big Brother Canada. We will find out who wins the final HoH competition and who they choose to bring with them to the Final 2. Part 1 of the HoH competition is currently being built in the backyard, as the houseguests have been on lockdown and have noted that they have heard building. Come Thursday night, someone will be crowned the winner of the first ever Big Brother Canada!