Devin uses the veto on Brittany, nominates Zach in her place
July 7, 2014
Team America is Revealed - Day 17 Recap Part 2
Paola grows frustrated with Devin- Day 18 Recap Part 1
1:00-2:00 PM: Devin used the Power of Veto on Brittany. Devin named Zach as the replacement nominee. When the feeds returned, everyone was scrambling due to the fallout from the veto ceremony. Zach blew things up at the ceremony. Frankie was talking to him an questioning why Zach called him out. Zach said that he still trusts Frankie 120% and that nothing has changed. Frankie was angered that what Zach did will make him untrustworthy to the rest of the house. He explained that his whole game was to play in the middle and not have to choose a side, yet Zach is trying to created a divide in the house.
While they were talking in one room, Brittany and Paola were shouting at each other in another. Paola had been called out on throwing the Battle of the Block competition, though she continually denied that she threw it. Paola said that she wont even bother campaigning now since everyone will vote for Zach to stay after hearing Brittany's speech.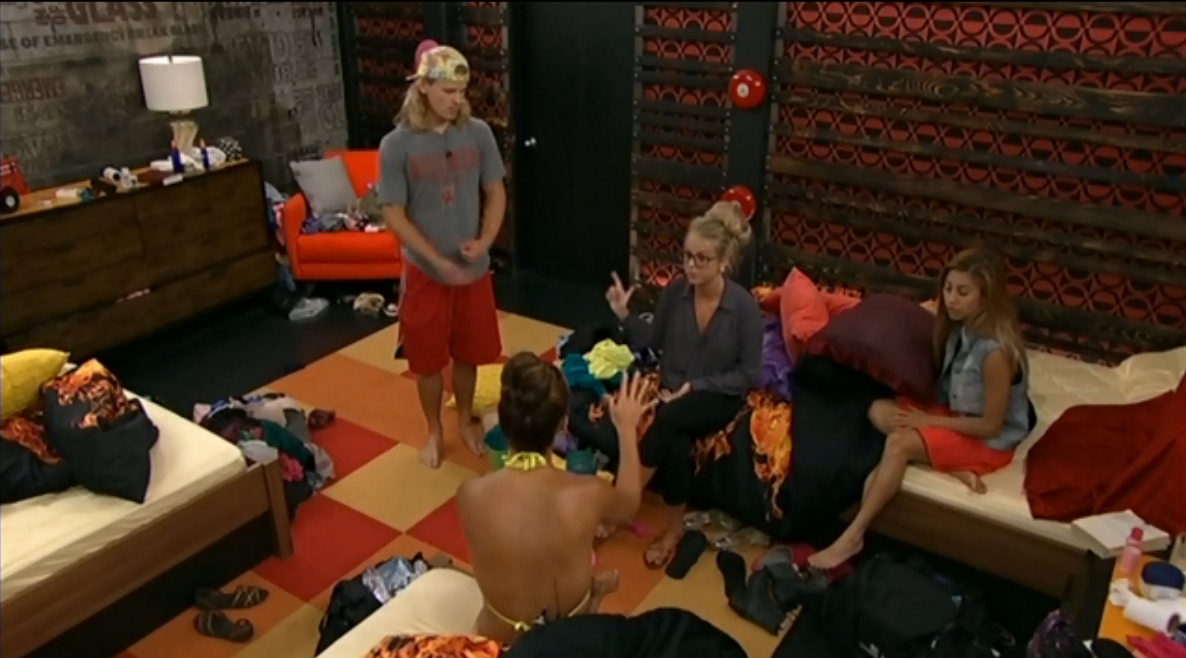 Cody and Frankie spoke because Zach said that he called out Frankie for Cody and Derrick. Cody assured Frankie that he trusts him but simply said that he is "all over the place".
Caleb told Frankie that Zach pissed him off, essentially threatening him after calling him out. Frankie said that they will have to figure out how to get him out. Caleb mentioned that Zach brought up Devin's daughter and the pills that he takes, which was just too much. Zach went outside and said that he did everything to put Devin on blast. He explained that Devin is a joke and that he could no longer hold it in. He then went and found Frankie to let him know that the one thing that he regrets is putting Frankie on blast. He said that he will personally go around and tell everyone that he regrets that. Zach said that he will not say sorry again but he means it. Cody told Frankie that what Zach did can easily be fixed. Zach let them both know that he has been doing work for Caleb and Devin but he is now over it.
Hayden and Nicole were also feeling that they got thrown under the bus. Devin put it out there that they knew about Paola throwing the competition even before it happened. They were going around and trying to clear their name, also throwing Amber's name out there as someone that played a bigger role in things than she wants to let on. Zach spoke with Hayden outside, letting him know about the Bomb Squad. He told Hayden that Caleb said that they could use him but he would not be part of the alliance. Zach said that Caleb is a huge liar and doesn't have Hayden's back.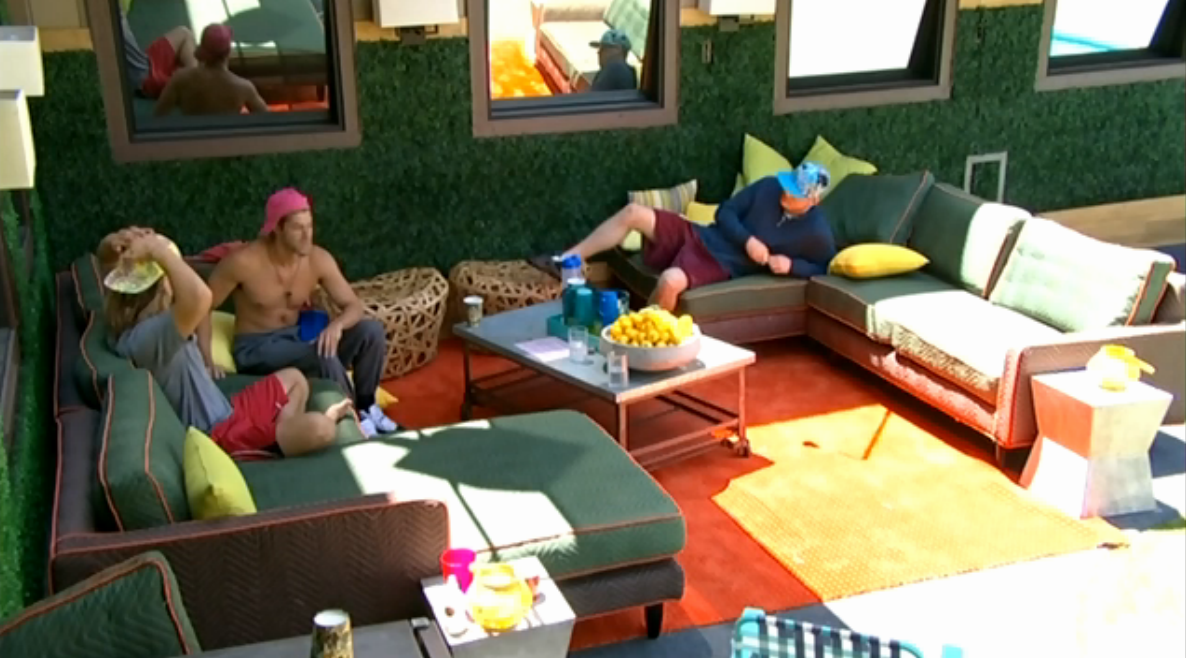 Zach explained that he is revealing everything because he wants to get everyone behind him so that they can take down Caleb and Devin. He said that they didn't want to be in the alliance but Devin basically strong armed them and took it over by bringing people in without asking everyone.
Zach went back to Frankie and told him that he revealed the Bomb Squad to Hayden. Zach said that he put it all on Devin. Frankie then went to Christine and Amber to inform them that Zach blew up the Bomb Squad. Frankie said that there is no option but to get rid of Zach. Word was getting around within the alliance. Derrick told Amber and Cody to deny deny deny. Derrick then told Amber that she has to evict Paola because Paola is trying to blow her whole game up. Derrick put the blame for this all on Devin, saying that they made a deal not to put any alliance members up.
2:00-3:00 PM: Hayden told Frankie that Zach let him know about the Bomb Squad. Frankie asked Hayden who they should send home. Hayden said that he would love to keep Zach, and then would like to send Caleb, Devin and Amber home after this week. Hayden felt that Zach would give them the best chance to take down those three. Frankie then met up with Derrick, agreeing that they need to stick to their Team America alliance. Derrick said that the Bomb Squad is going down and that they are now Team America. Both said that they didn't know what to do this week, though Frankie admitted to trusting Caleb and Devin more than Zach.
Cody told Derrick that people will start picking them off now that they know about the Bomb Squad. Derrick felt that Caleb, Amber and Devin would throw them under the bus. Cody felt that Caleb would target him since he is associated with Zach. Cody said that they have to keep Zach. Derrick asked if they should be honest about it or lie. Cody said that he would tell people straight to their face.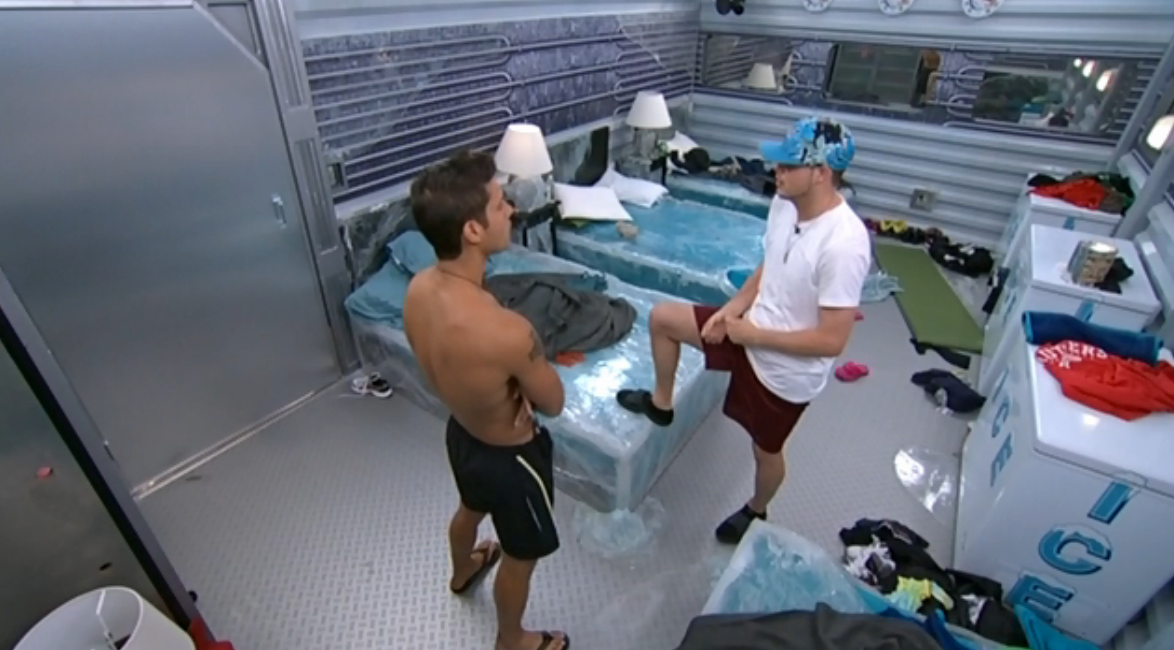 Derrick said that he will probably lie about it, saying that he is voting for Paola to stay. Zach then joined the conversation. Derrick told him that they have to make it sound like they were strong armed and forced to join the alliance but really thought that it was a joke. Amber also joined, at which point Zach told her to tell the girls that she was part of the alliance but wasn't going to stick to it.
Frankie, Christine, Amber and Devin all agreed that Zach needs to go. Amber decided that it may be a good idea to bring Hayden into the Bomb Squad, telling him that they will protect him if he doesn't say anything. Devin said to run it by Caleb. Caleb was speaking to Derrick, who said that their alliance only had one rule. Caleb said that was to not nominate any alliance members. Caleb said that the best thing to do at this point is to send Zach home since he wants to go anyway, then have the rest of the Bomb Squad stay tight. Derrick said that he knows that Zach is going off but said that you can't really blame given that he was completely blindsided by his alliance. Derrick told Caleb that regardless of what they decide they will need to make Zach feel part of the alliance so that he doesn't do any more damage.
3:00-4:00 PM: Fearing that word of the Bomb Squad would get out, Christine told all to Nicole. Christine said that she was using it to help bring her as far as she could. She informed Nicole that Hayden is going to be brought in to take Zach's spot. Christine said that she was never actually a part of the alliance, as only Frankie actually gave her information. Christine added that they tried to use her as a puppet and would always talk down to her. She advised Nicole not to trust Derrick. Christine explained that Derrick and Caleb threw her under the bus to Devin, telling him that she was scared of him when all that they were doing was covering for Amber.
Devin informed Caleb of the plan to bring Hayden into the Bomb Squad. Devin, Hayden and Frankie were in the room when it all went down. Devin said that the alliance began on Day 2 and the goal was never to go after Hayden. Devin said that they would like for him to join them, offering to protect him and get him to jury. When Devin asked for a response, Hayden said that it is all happening so fast and he doesn't want to say anything right now.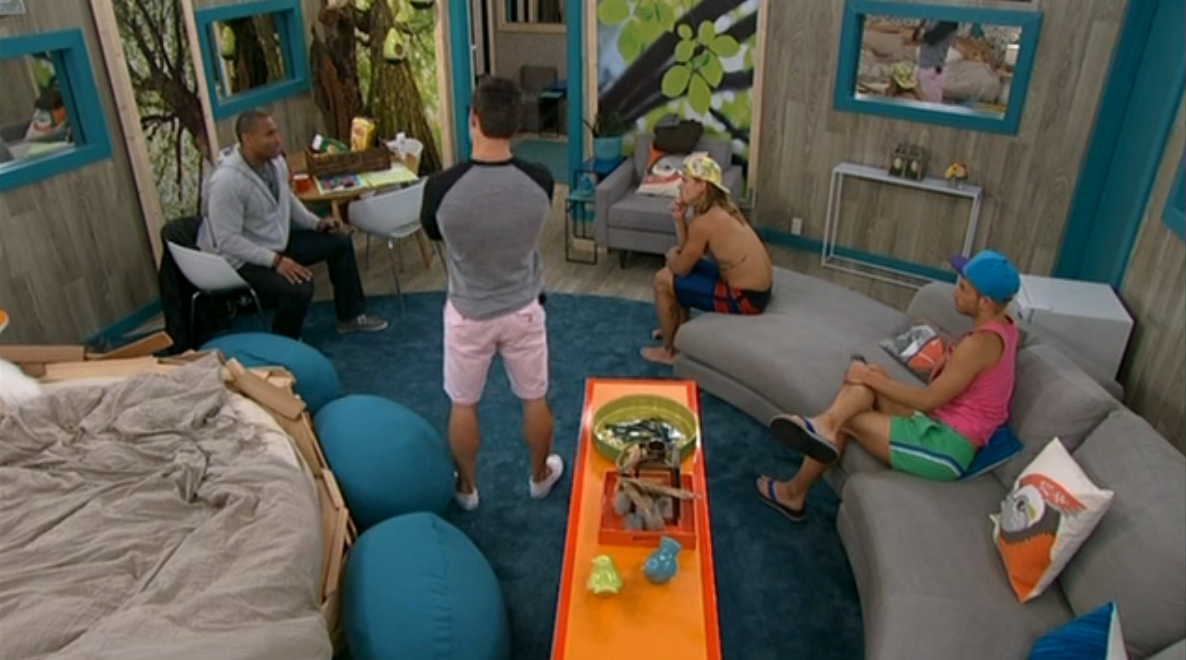 Devin then pointed out that they will always have the numbers and that there is no safer place to be. Devin explained that it was a one time thing to nominate an alliance member. Devin again asked if Hayden is down. He reluctantly said yes.
4:00-5:00 PM: Frankie, Derrick and Hayden discussed the invite to the Bomb Squad. Frankie said that Devin and Zach are trying to pull the alliance to one side or the other. Hayden said that they have to keep Zach. Frankie said that whatever he chooses, someone will feel that he made the wrong decision. Frankie pointed out that Devin and Caleb are beasts. Hayden said that they wont win everything. Christine then joined them. Hayden said that Devin was trying to force his hand. Hayden told them that they have to be able to not listen to Devin. Hayden and Derrick agreed that Zach needs to lay low at this point and not do any further damage.
Cody went to Devin and told him that he and Zach have gotten super close, like Devin and Caleb, so he doesn't want to stab him in the back and vote against him. Frankie was talking to Christine about how the only person that would be mad if Zach left is Cody. He said that you would have to deal with Caleb, Devin and Amber if you kept Zach. Christine said that either way they go, people will be mad at them. Christine then took the time to talk to Hayden, telling him that she was at the bottom of the Bomb Squad and was never really wanted.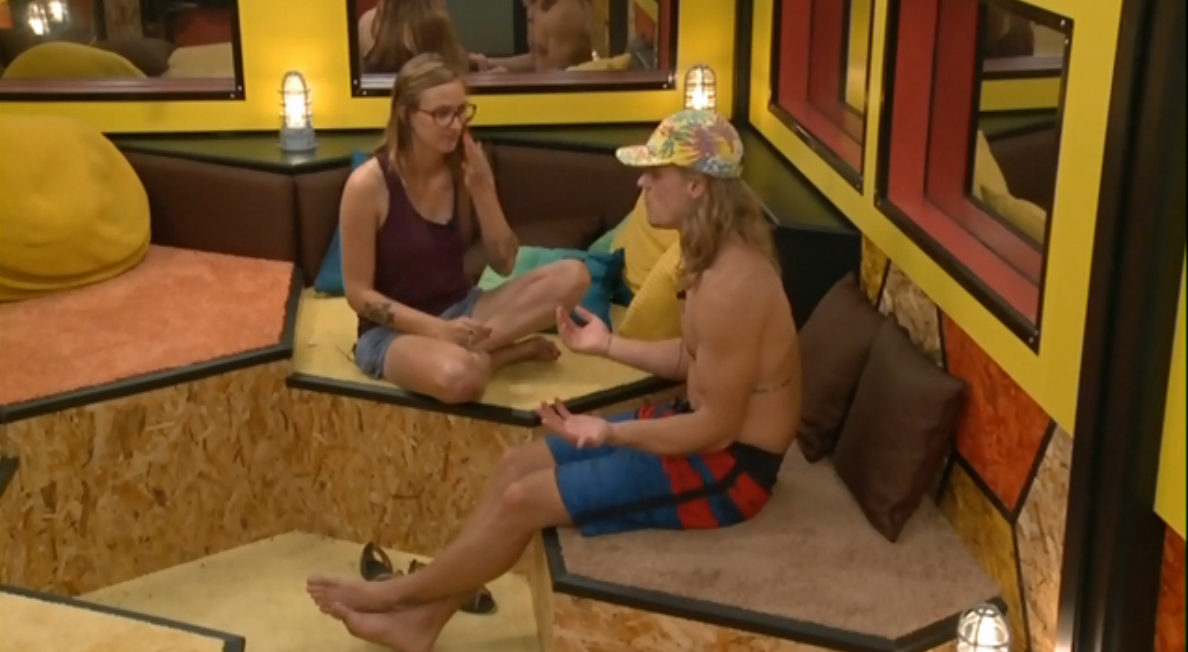 Christine said that she doesn't want Devin, Amber or Caleb to make it to the jury. Hayden said that he would like to see those three go next. Hayden said that it sounds as though the Bomb Squad never really was an alliance except for in the eyes of Devin and Caleb.
5:00-6:00 PM: Derrick told Frankie that it seems as though they are in the clear in terms of the Bomb Squad being totally blown up. Frankie asked if they have to vote Zach out. Derrick said that he is waiting before making a decision. Frankie said that the best case scenario is that Zach repairs things with everyone and Paola leaves with a unanimous vote. Frankie pointed out that Zach and Devin would then be the targets. That being said, Frankie didn't think that Zach would be able to do that. Frankie then went to Victoria and said that Zach's fate is entirely in his hands. Frankie figures that Zach will go home if he continues to draw a line in the sand. Victoria said that it's funny that Zach tried to get rid of her all week and is now on the block. Frankie then spoke to Jocasta and said that Zach is a bigger threat than Paola and you are supposed to take your shot at the big threats when you get the chance.
6:00-7:00 PM: Brittany asked Derrick if he knows how he is voting. Derrick said that he will try to go with the house. He admitted that he would rather see Paola go home. Derrick told Brittany that Paola leaving is best for her game, since the line is drawn. Derrick felt that Zach would be in trouble if he continues to act like he did today. Brittany said that she likes Zach a lot. Meanwhile, Nicole was telling Christine that she will likely vote the way that Hayden does. Christine said the same and said that Nicole can trust Hayden. They discussed that they are scared of Frankie as a player. Christine revealed that she would like to see Caleb go before Devin. Nicole said that she would like to see both Caleb and Amber go before Devin. Nicole revealed that she plans to backdoor Amber if she wins HoH.
7:00-8:00 PM: Frankie and Derrick discussed staying true to Team America. Frankie said that the three of them are safe with Devin and Caleb. Derrick said that they can essentially say goodbye to Zach. Derrick said that they can manipulate the votes however they want this week. Frankie pointed out that they will be the number one targets if they vote against Caleb and Devin. Derrick said that they may do okay but they will probably get picked off.
CONTINUE TO PART 3 OF OUR DAY 18 RECAP HERE - ZACH CAMPAIGNED; "ZANKIE" MADE UP
Read our other recaps here.