Derrick works Caleb; Zach is now safe and Devin has blown up the Bomb Squad
July 8, 2014
Devin uses the veto; Zach reveals the Bomb Squad - Day 18 Recap Part 2
The houseguests discuss the vote - Day 19 Recap Part 1
7:00-8:00 PM: Frankie spoke to Victoria about her vote, looking to make sure that she voted to evict Zach. Victoria said that if Paola goes, Zach remains the target. On the other hand, Victoria felt that she would be the target for the girls if Zach were to leave. That being said, Victoria feels that Zach is a bully and will treat her poorly. She pointed out that Nicole had just told her that she is voting to evict Zach, which she did in order to try to make it a 7-5 vote to evict Paola. Frankie said that he still thinks that Zach should go.
8:00-9:00 PM: Frankie went to Zach and said that he will be staying by a vote of 9-4 or 8-3. Frankie had previously explained that he would be telling Caleb, Devin and Amber that he voted to evict Zach, in order to stay on their good side. He reiterated that plan. Zach then went to work on campaigning to Victoria. Zach's pitch centred around the fact that he would not nominate her, would not make her a have-not, would be a target over her and would help her win the Battle of the Block if nominated next to her.
Cody told Nicole that he wants it to be an 8-4 vote so that Devin, Caleb and Amber realize that they are in trouble. Nicole still pushed for the 7-5 that Christine had mentioned to her. He said that it's time to send a message that they don't have the power that they think they do. Cody then went to Zach and said that he is going to make a push for Jocasta's vote, as a 9-3 would really send a message.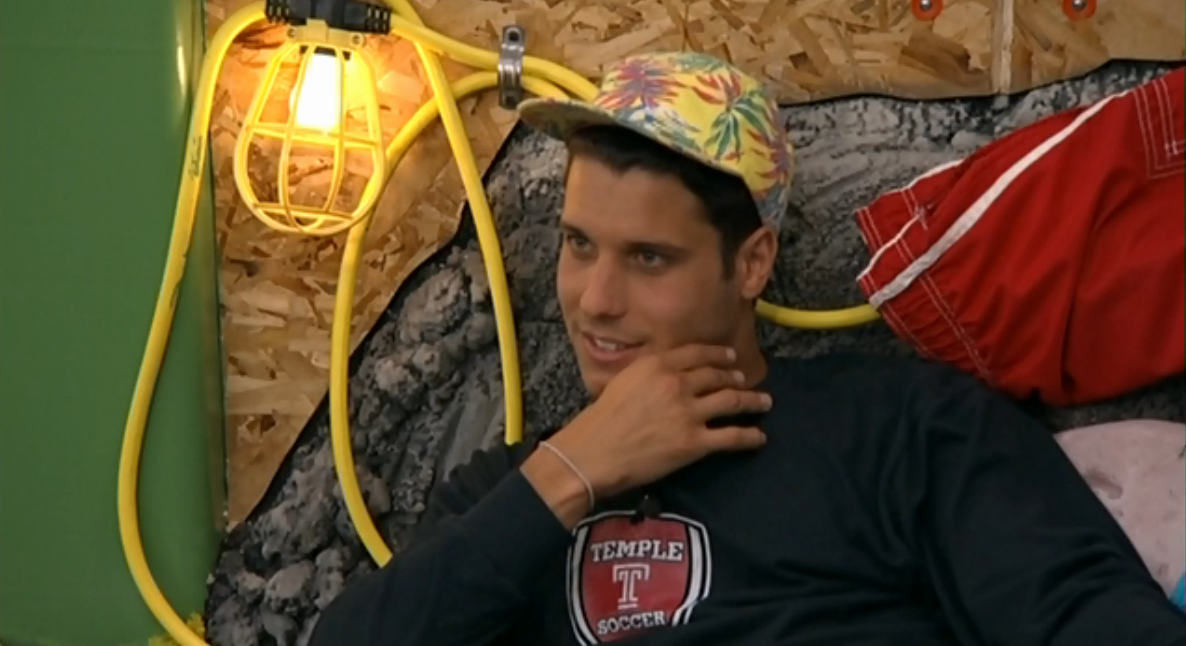 Cody said that he and Hayden can take on Devin and Caleb in any competition. Cody was concerned about Frankie, saying that Zach better be right about him but he is sorry to say that he doesn't think that Zach is. Cody felt that it made no sense that Frankie could vote Paola out and make it look like he voted him out. He let Zach know that he has heard that Frankie was voting against him.
9:00-10:00 PM: Team America met up and discussed that they should split the votes in order to allow themselves to be positioned well within the house. It was decided that Derrick would vote to evict Paola, while Frankie and Donny would vote to evict Zach. After Donny left, Derrick asked Frankie if it would be worth telling Caleb that the house has the numbers to keep Zach, hoping that he might go along with it. Frankie wasn't sure if it would work. Frankie then went to Caleb to discuss the vote. Caleb felt that it would be 6-6 in the worst case scenario, which would still allow them to evict Zach with Devin's tie breaking vote.
10:00-11:00 PM: Derrick went to work on Caleb, telling him that it's better to play it safe until they have to knuckle up. Derrick asked what Caleb thought about the vote. Caleb was unsure of Jocasta and Donny. Derrick said that Zach doesn't mind Caleb and has not been talking shit about him. Derrick made it clear that Devin is Zach's target. He said that fi they are not with the house and Zach stays 7-5, they will be in major trouble. Derrick explained that they can keep the blood off of their hands if they keep Zach and everyone is on board. Caleb noted that Zach's apologies could be for votes and that he would just turn on them again. Derrick agreed. Caleb also pointed out that they can use Paola. Derrick said that the others can use her too though.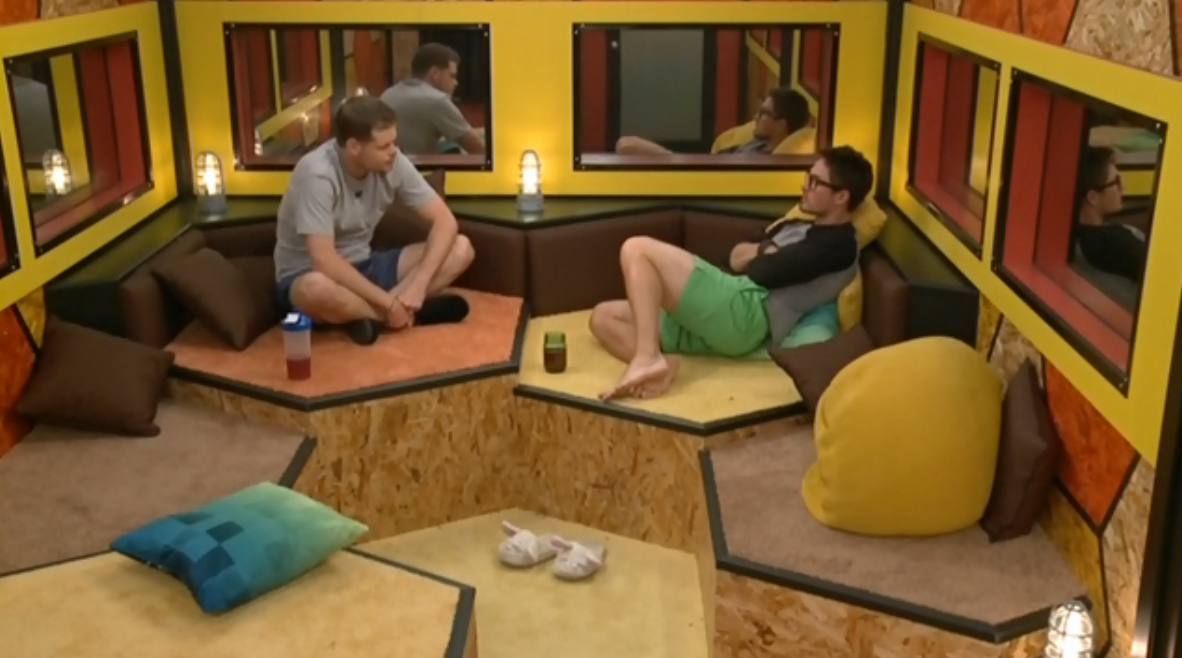 Caleb asked Derrick who he feels that it is safer to keep. Derrick said that Caleb telling him about Donny and Jocasta's votes being up in the air has got him nervous. Derrick pointed out that Dan Gheesling always said that when you take your shot you better not miss. He then said that Zach will stay true to them if he stays. Derrick suggested that Caleb speak with Zach before they make a decision. Derrick felt that drawing a line would be a dumb move at this point, as it would make people like him and Caleb targets if their side doesn't win HoH. Derrick went to Zach and Cody, telling them that Caleb is on board and Zach will be 100% staying. Derrick told Zach that he has to say that he wants nothing but to work with Caleb. He said to tell Caleb that he will never put him up as long as Devin is there.
Zach went to Caleb and told him that everything that he has said to him is true. Zach said that he knows that Caleb is loyal. He explained that Devin is his target, then said that Devin went back on his word about never nominating anyone from the alliance. Zach admitted to saying some things that he shouldn't have but he felt that he had the right to speak up once Devin broke the deal. Caleb cleared the air with Zach about not throwing him under the bus to Devin when he said that there were Bomb Squad members after Devin. Zach made it clear that he is extremely confident that he has the votes.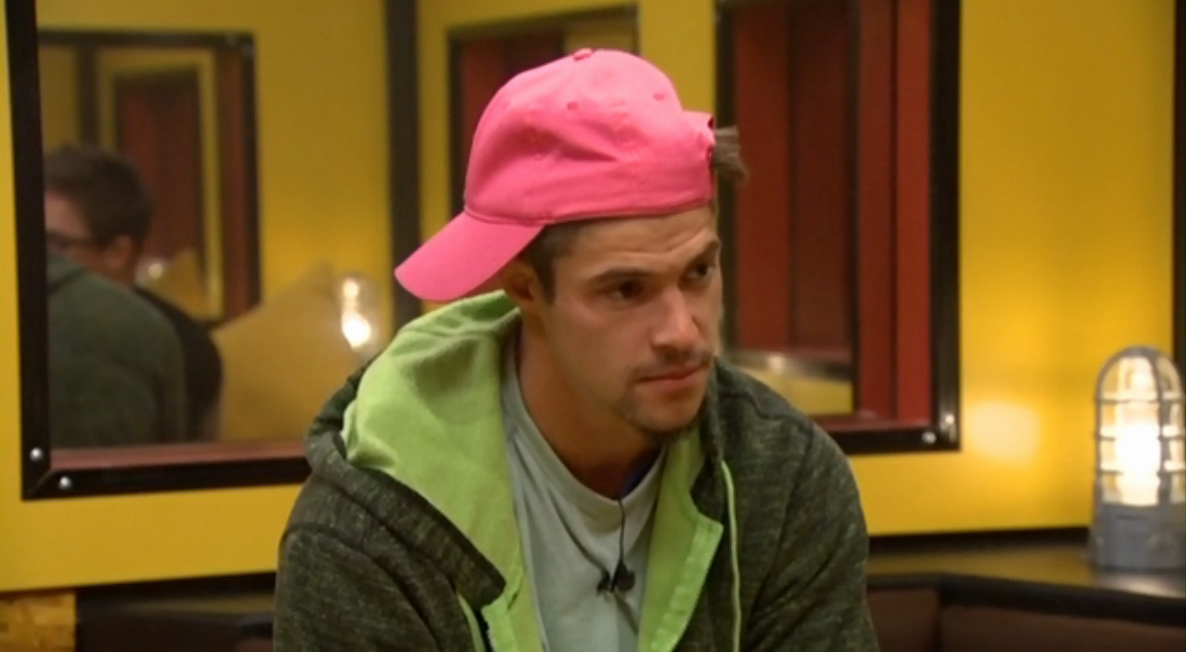 Caleb said that he wants to stay true to his promise, not nominating or voting anyone from the alliance out. Caleb said that Zach will most likely be staying. Zach said that he has had the numbers for 12 hours. Zach told Caleb that they can still finish the mission and get the alliance to jury. Caleb got Zach to agree to not target Devin until they made it there, in exchange for Caleb's vote.
11:00-12:00 AM: Zach went to Frankie and said that Caleb and Amber are voting for him to stay. Zach pointed out that Derrick and Cody really went to bat for him. Frankie said that he did too, but in a sneaky way. Zach then spoke to Amber and filled her in on what was going on. Caleb came in and said that Zach is not going home. Caleb suggested that Devin will be the first one out when they get to jury. Amber said that Brittany, Jocasta and some of the girls deserve to make it to jury over Devin. Caleb said that if the alliance agrees that Devin needs to go next, then he will go next. Caleb then let Derrick know that they will be keeping Zach. Caleb let him know that Devin may need to go next week but they will have to consider that he is a number.
12:00-1:00 AM: Caleb told Frankie that they now have an alliance of nine, and those nine need to make it to jury. Frankie mentioned that Victoria said that she wants to go home, which led to Caleb saying that she can be the next to go. Frankie then went up to the HoH room to speak to Devin. Devin told Frankie to just let him know what is happening. Frankie said that Caleb and Zach made a truce and Zach is now staying. Frankie told him that Zach is not going after anyone in the alliance. All Devin could do was laugh. Devin questioned why Caleb would do that. Frankie explained that Zach had the votes to stay, seeing as only he, Caleb and Amber were locked in. Devin said that he is no longer with the Bomb Squad. He said that it is a solo game from here on out. Devin told Frankie that he will pick every single person in the house off one by one.
Devin went to Donny, woke him up and told him that something big just happened that is going to impact the game for everyone. He said that it will threaten their games. Devin said that it is really really bad and that Paola is going to leave. Devin said that he only trusts Donny and Frankie. He then revealed the Bomb Squad and all of its members. Donny asked if they could talk about it in the morning since he was in bed. Devin said yes.
1:00-2:00 AM: Devin got Brittany out of bed and pulled her up to the HoH room. He revealed the Bomb Squad. Devin said that the only people that he trusts are Donny, Jocasta and Frankie. Brittany was shocked by it all, saying that she thought that everyone else in the house was so stupid but really it was her.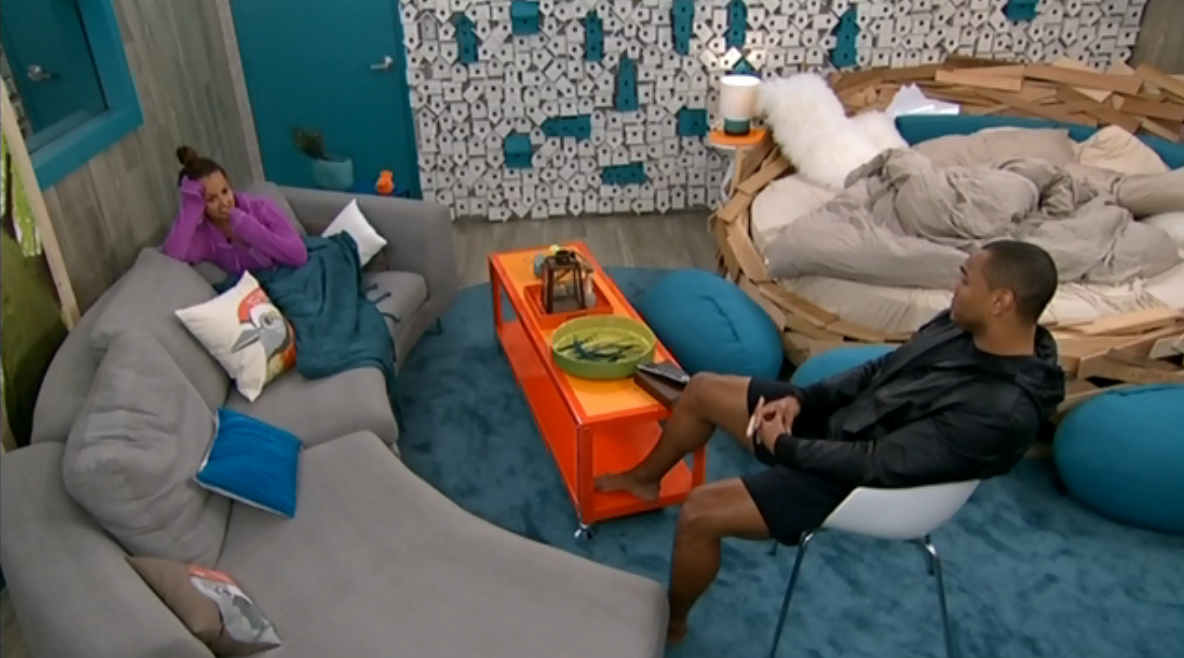 Brittany was most hurt by Derrick, saying that she told everything to him and genuinely wanted to meet his family. She proceeded to call him and a dick and an ass. Devin said that Derrick did mention that he wanted a parent to win.
Devin spilled the details on everything to do with the Bomb Squad. He let Brittany know that he will be going after everyone but will protect her like he said he would. Devin admitted that he has to win the veto or else he will go home, but he said that he has no plans to make nice with anyone. Devin suggested that Brittany nominate Amber and Caleb if she wants to blow up the Bomb Squad. Brittany told him that she was already planning to do so. A short while later, Jocasta was brought into the HoH room. Devin continue to spill everything to both her and Brittany.
Frankie was telling his fellow Bomb Squad members about his talk with Devin. He said that it didn't go well at all. Frankie let the guys know that Devin said that he is going to play on his own and pick everyone off one by one. Zach said that he is a genius because he made Devin put him on the block so that all of this would happen. They all agreed that they will have to backdoor Devin when they get the chance, leaving him off of the block until then in order to prevent him from playing in competitions. Frankie said that they can use this opportunity to unify and become stronger than ever on their way to the jury. The guys began to notice that Brittany and Jocasta were up in the HoH room. The Bomb Squad agreed to deny deny deny everything about the the alliance. They wanted to say that it was only a one week deal and there was never an alliance. Brittany was noticeably pissed when she came back down from the HoH room.
CONTINUE TO PART 3 OF OUR DAY 18 RECAP HERE - ZACH CAMPAIGNED; "ZANKIE" MADE UP
Read our other recaps here.